RATING: 5     |     SALES: 709
LIVE PREVIEWBUY FOR $69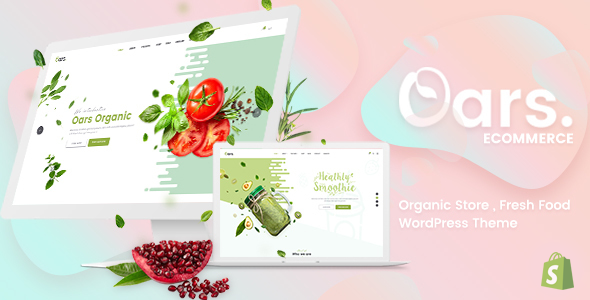 Oars is developed by Envato Top Elite author team – tvlgiao. Inherited all powerful functionality of our bestselling Shopify
theme, with newer and trending design styles. It is best suitable for: fashion store, selling cloth apparel t-shirt.
Minimal white bright & clean design, high-res retina, pastel harmony colors. Simple, minimal, super light-weight
and fast loading, SEO microdata coded. And more design for jewelry, luxury, gift, handmade, kids, baby store, bakery,
car auto parts automative, high-tech digital electronic gadget, flower shop, furniture & interior, orginic food.
Built with impressive WOW animation effect, parallax style, full-screen slideshow, full-width page, powerful theme settings,
easy to change colors, fonts, custom layouts with Sections ready.
Furthermore, with our
excillent support team, we're commited to supporting you with all our enthusiasm and proud to help you success
with our theme.
Highlight Features:
7 Best Unique and Top Creative designs
Support Shopify Sections
Responsive Web Design: Design is optimized for all the most popular screen resolutions. When screen is resized, design
elements are transformed smoothly on each breakpoint (from 320 to 1680 pixels) in order to adapt to the current resolution.
Dropdown Mega Menu in Horizontal and Vertical Menu

Dropdown menu support
Pushed menu style in tablet and mobile
Well responsive and mobile friendly

Revolution Slideshow
Advanced Product Filter
Ajax Wishlist, Ajax Compare, Ajax Add to cart
And many more features…
Full Features:
Sections – Drag & Drop Layout Builder
Unlimited Color
All Google Fonts
Configuring background and color for header, content, footer and some other modules easily
Supporting Internationalizing, enables merchants to use the Shopify Language Editor to translate their storefront content
into another language
Mini drop down login
Mini drop down cart
Showing popup message when add to cart
Custom logo, favicon upload easily
Supporting multiple currencies
Supporting Stay Update with Mailchimp
Working Contact form with Google Map
Related Product with slider effect
Easy social sharing buttons on products
Style customer area
Style checkout area
Integration with the Google Web Fonts library
Apply google rick snippet
Custom effect for product image
Beautiful typography
Detailed documentation
Included in the purchase package:
Shopify Theme packages to install on your Shopify store
Detailed installation & user guide documentation.
After downloaded purchase package, need extract/unzip it first.
Resource credits:
Sample images from:

– google.com

Icons from:

– google.com

Support Policy
Support Scope:
Answer any quetions related to theme installation, theme configuration, theme setup to look like our demos.
Fix bugs related to the design (such as broken layout, overflow content…), the standard features of Shopify that make your store malfunction. Except for errors due to conflict with 3rd party apps. In this case, please contact us to discuss more. We may charge addional fee to fix. Sometimes, there may be errors beyond our ability that we cannot fix, please find other partners to fix it or uninstall the app. We do not accept returns for these cases.
Assist you how to translate your theme. Theme supports Translation Editor of Shopify. Allows to translate the your store to any language. However, it doesn't support multi-languages. If your store's language is not English, after installing, go to Actions > Edit Language to translate.
Your are still in support period. If your support period has expired, please extend your support plan.
Support one store per a purchased Standard License.
Out of Support Scope:
Teach you how to use Shopify.
Edit the theme files, theme source code.
Answer questions related to edit theme files, source code.
Add new features, customize the features which the theme doesn't support.
Integrate or make the theme work with third-party apps, third-party scripts.
Upgrade your currently version. We only provide updated package.
Response Time:
Our working hours from 9AM – 5PM GMT+7, Monday to Friday. Your inquiry should be answered quickly in our working hours. In some case, we may need more time to look into your request, we'll try to inform you and keep you updated ASAP.
IMPORTANT NOTE:
Pre-sale questions or bug report, please open a conversation.
Support Response: We are working from 9AM to 5PM, GMT+7, Mon to Fri. When your question come to our system and the Customer support staff will answer it as soon as possible follow the timeline above. They will process ticket/conversation in queue (first come first serve). When your question come to our system at out of office time or weekend, it will be hold to next working day.
As demo display, the purchase package will have 4 Mega menu options for Horizontal menu and 3 Mega menu options for Vertical menu. If you want add more Mega menu, it will be customization request.
The Collections listing in left Sidebar will not support sub-collections (sub-content) as the Main menu.
Our theme have 7 unique layout. So each theme will have different layout and the Theme Option (Sections) will only include sections that use to build the unique layout. It do NOT include other sections from other theme style.
Source Syntax: we will provide support anything that the theme package in Customer site not the same our demo. We don't support (complex requests) to add new element such as SEO text, Robot text, Schema.org, Optimate (speed up)… or change layout, style request!
All graphic images use for demo sample only and NOT include in the purchase packages. We are NOT responsible for any copyright infringement by using these graphic images. By purchasing our products, you acknowledge and completely understand and agree our notice. If you are authors or own copyright of any resource, please submit DCMA notice to tvlgiao@gmail.com.
---
Product Author:kalathemes