RATING: 0     |     SALES: 6
LIVE PREVIEWBUY FOR $20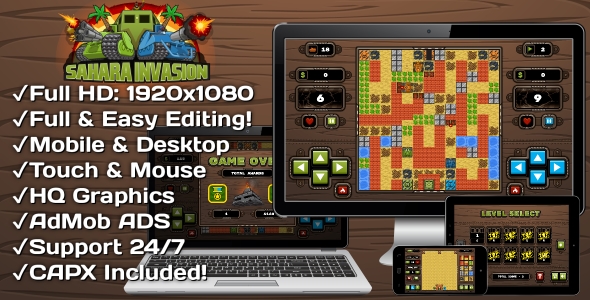 Sahara Invasion – are good old arcade tanks! In battle, gentlemen! Choose one of the 4 ways to fame, each of which is difficult in its own way, from a calm company to a fretting mincing machine. Fight at 120 polygons alone or with your best friend to win, or create your own 990 battlefields. Attack and destroy enemy armored vehicles to achieve the main goal – victory, but do not forget to defend your base in the heat of battles, its destruction leads to the failure of your entire mission. On the way, there will also meet dangerous mini-bosses, victory over which will not be the easiest walk. For the excellent result shown during the battle, you will be awarded medals and your exploits will not be forgotten and will be recorded. Your opponents are well armed, so try to use both terrain, as camouflage and protection, and bonuses on the battlefield that will help improve weapons, turn enemies into wreckage or water into ice for ferrying. Good luck!
Features:
★ Game from 1 to 2 players on one device;
★ 120 levels + constructor (from 10 to 990 levels);
★ 4 levels of difficulty with different behaviors of opponents;
★ Keep progress for each level of difficulty;
★ 5 enemies with unique characteristics;
★ 4 modifications to the player's tank;
★ 10 classic game bonus;
★ Ability to mow trees or drown the tank;
★ Great graphics in high quality – Full HD.
Cheat codes:
The cheat codes panel is activated when you click on the player's base!
★ 11131 – Player 1 God Mode;
★ 12131 – Player 2 God Mode;
★ 11211 – Player 1 Tank Type 4;
★ 12211 – Player 2 Tank Type 4;
★ 11331 – Player 1 99 Lives;
★ 12331 – Player 2 99 Lives;
★ 23133 – Kill All Enemies;
★ 12232 – Get Bonuses;
★ 21122 – Steel Base;
★ 22132 – Enemies sleep;
★ 33322 – Turn off cheats.
PC Controls:
Single player game
★ Move: Arrow keys & W,A,S,D
★ Shoot: Spacebar
Two player game
Player 1:
★ Move: W,A,S,D;
★ Shoot: Spacebar;
Player 2:
★ Move: Arrow keys;
★ Shoot: Num 0.
Mobile Controls:
Touch Control works on all browsers and all mobile devices!
Other Features:
Full Game;
HTML5 Mobile Optimized;
AdMob ADS;
Mobile App Optimized Cocoon.io;
Facebook Share;
Twitter Share;
GooglePlus Share;
One Touch Control;
Touch & Mouse;
Sound Fx;
Playable in all platforms (Mobile, PC, etc.);
Online Support 24/7;
Included Files for Export to IOS & Android;
High Resolution: Full HD – 1920×1080px;
Simple Gameplay;
Easy to Reskin;
Easy to Add Content
Easy to Change Source;
No Programming Knowledge Needed!
HTML5 Game – Project Events: 1658;
Mobile Game – Project Events: 1669;
Including Constuct 2 and 3 files (.capx, .c3p, all source).
Easy to change the image, just replace the image file! Customize your own game and put it on IOS or Android. Download official Construct 2 manual.
If you purchase any of my items, you will have full support! Just contact me and i will answer you as soon as possible and do our best to help you.
I will be very pleased if you rate my games in ★★★★★ stars!

---
Product Author:Muscle-SS