RATING: 0     |     SALES: 3
LIVE PREVIEWBUY FOR $13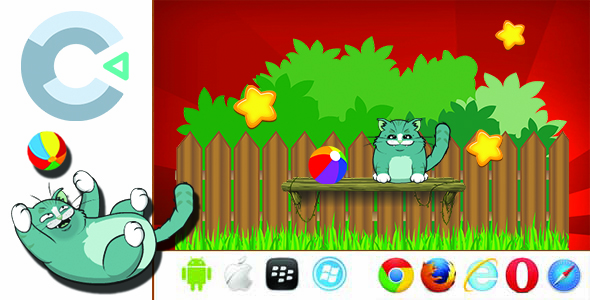 Puzzle and Funny Game!
This cute kitty cat wants to play with you. Help Kitty get her favorite ball. Don't let the kitty lose the ball, he will be very angry if it happens repeatedly.
Featured Games:
Game Levels
Save and Load the game level automatically
Full Game;
HTML5 Mobile Optimized;
Touch & Mouse;
Sound Fx;
Playable in all platforms (Mobile, PC, etc.);
High Resolution: HD – 720*1280px;
Simple Gameplay;
Easy to Reskin;
Easy to Add Content
Easy to Change Source;
Easy to Create New Level (Just Duplicate Layout and Change as You Like);
Including Constuct 3 (.c3p);
No Programming Knowledge Needed!
What can i do with the c3p file?
You can easy to edit the game (don't need coding skills, just drap & drop).
You can export to mobile game (android, ios) or HTML5 game with fully compatible
WARNING!!!
You need:
Construct 3
Plugin LiteTween (already included)
SCREENSHOTS
PLEASE RATE!
If you buy our games, please rate their! And we give you a present one more game! ? To get a gift sufficient to evaluate the game in ? stars, write in the comments your e-mail and we will send you a gift! Also you can contact us by email: devfalconapp@gmail.com
MORE GAMES
---
Product Author:FALCONAPP