RATING: 0     |     SALES: 12
LIVE PREVIEWBUY FOR $69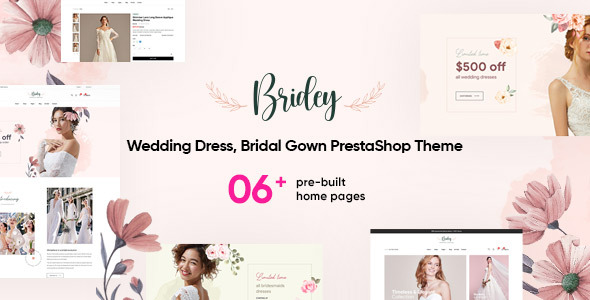 Leo Bridey is a PrestaShop theme which is designed for Wedding Dress Studio, Wedding Gown Shop And Bridal Gown Store. With a very sweet and appealing design, this theme will bring great emotions for any brides visiting your site.
This theme possesses many wonderful features to create a professional and attractive website. The first impressiveness is 6+ Homepage Styles which allow you to transform your website appearance magically from sweet, lovely, dreamy to allure, enchanting. Not only that, but this theme has up to 13+ Well-Designed Product List Page Designs, 7+ Products Page Choices, 5+ Header And Footer Options, etc. which give you the maximum flexibility in innovating website's look. The next notable of Leo Bridey PrestaShop theme is owning Incredibly Strong Leo Framework 4.0 which born a Fully Responsive Website containing many great functions.
Besides, this PrestaShop templates is definitely surprising for you with tons of amazing features as Instagram Connection, Well- Built Shopping Page With great Filter And Sorting System, Impressive Blog, Product Comparison, Beautiful Banner… You definitely do not want to miss such an awesome theme, don't you?
Bridey – Charming Store eCommerce Prestashop theme
1. 06+ Romantic and Loving Homepage Styles
Leo Bridey with appealing homepages will bring memorable and happy moments for any brides visiting your site. It is very quick and simple to choose and apply your most favorite design with some clicks.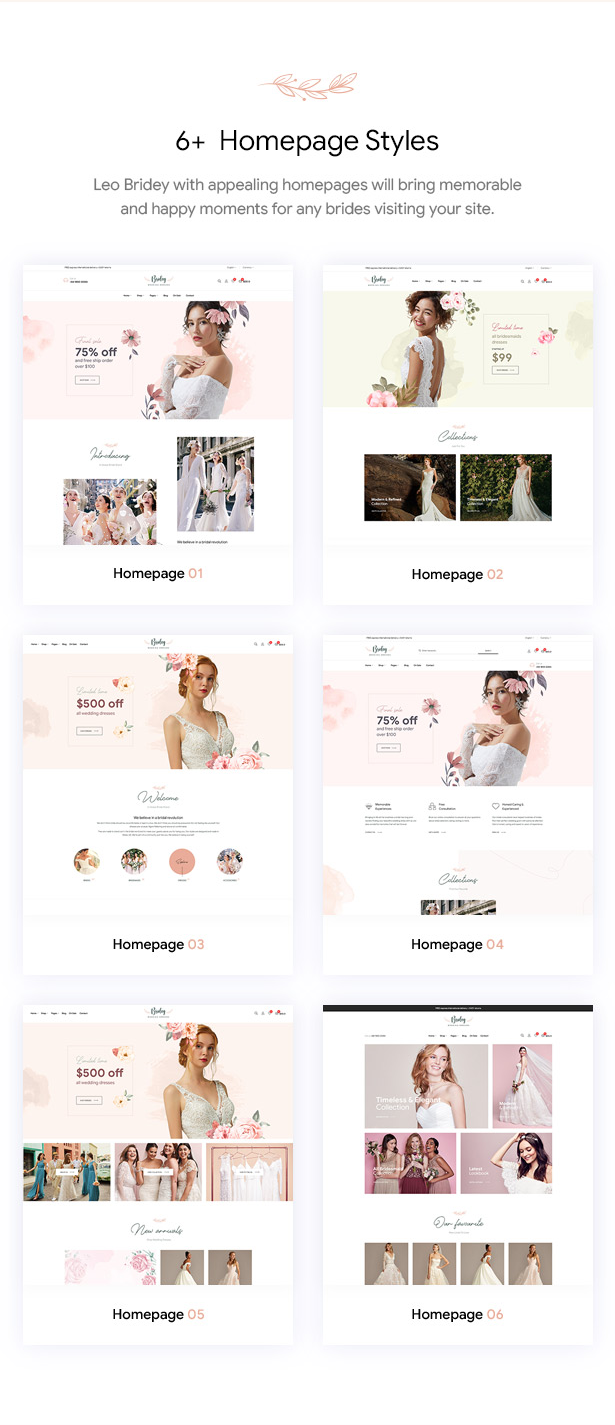 2. Instagram Connection
This feature creates a connection between your website and Instagram Account. Pictures which you posted on Instagram, will appear on site. By that your customer can quickly access Instagram by clicking on those pictures. Remember to update and take care your Instagram to impress customers and increasing followings.
3. Well-Built Shopping Page
Leo Bridey brings you a site with stunning shopping page which not only be designed with a proper and flexible layout but also owning a great product filter and sorting system. This perfect design will definitely not make you disappointed.
4. 07+ Impressive Styles To Present Products
With Leo Bridey, you have many different options to display and highlight beautiful wedding dresses on your website. Each style is designed very cleverly and carefully to give customers best information of product.
5. Smart And Beautiful Blog Space
Leo Bridey brings a great space where you can share interesting experiences, tips, stories, feelings, emotions… to your customers. That not only helps you increase interaction with target customers but also gain the trust from them. Especially this blog has a searching function, so customers can easily search for the favorite post.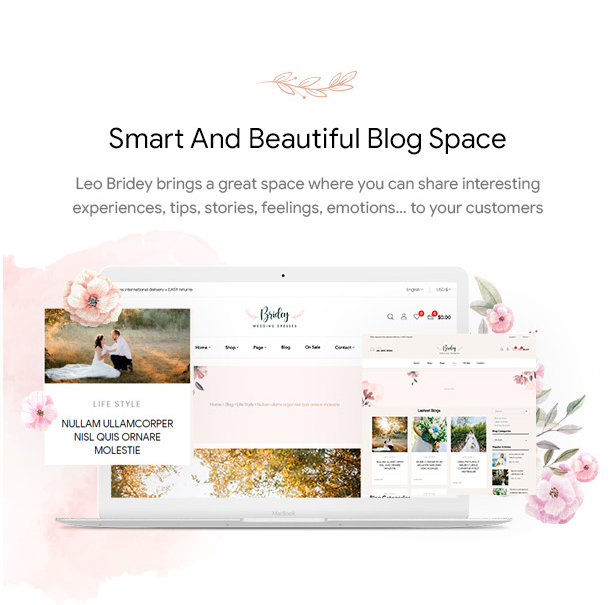 6. Fascinating And Flexible Banners
Many banners with diversified dimensions are put in noticeable position on website helping you attract and stimulate customers discover more of outstanding news as big sales, hot deals, new arrivals, gift code…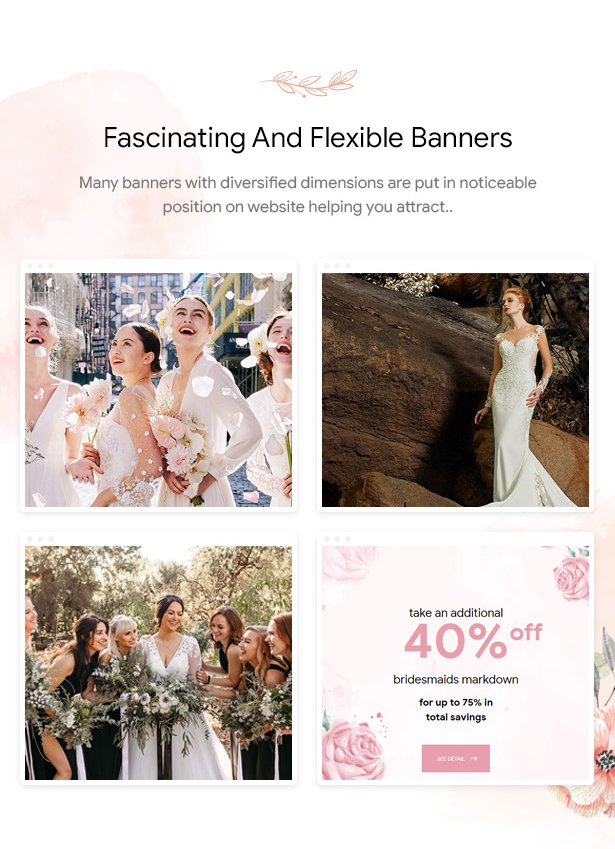 7. Multipurpose Leo Feature Module
Let give your customers better shopping experience with Leo Feature Module which brings tons of utilities for your site as wishlist, product compare, review, ajax cart…
8. Drag & Drop Ap Page Builder Module
This feature helps you build a fully responsive site without any code requirement. You can easily create a plentiful content webpage with drag n drop. Besides, managing website become easier than ever with the intuitive admin panel.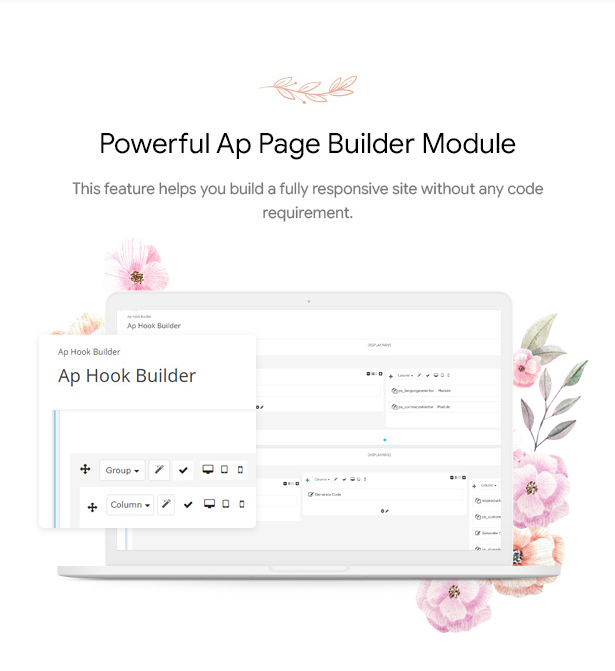 9. Mobile – Optimized Design
Even customers access your wedding dress studio with any mobile devices, smartphones, iPad or tablets, your site still appears beautifully and perfectly.
10. Show Off Testimonial
This is a great feature helping you increase the trust of customers. Let show up compliments, good feedback, interesting shares from previous customers cleverly on this section to create a strong impression for new customers.
11. Autocomplete Search
Searching box is an important tool which almost customers will use when going to a shopping webpage. By that autocomplete Search in Leo Bridey will make your website become more professional by recommending searching results as customers just types some words.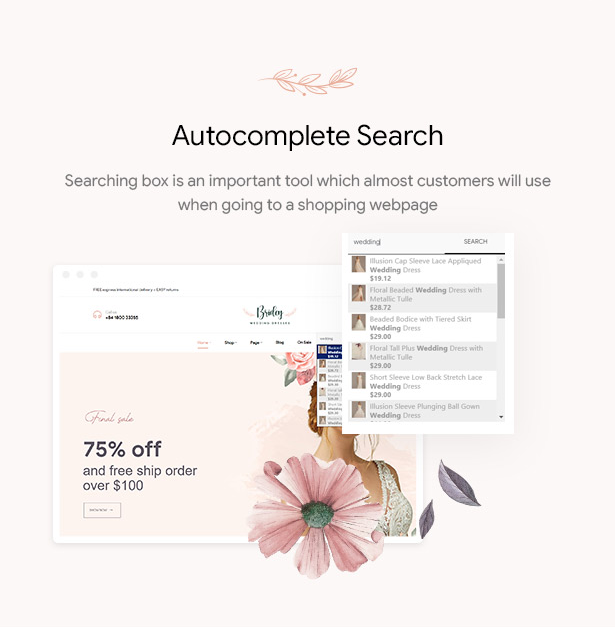 12. RTL And Multi Language Support
It's amazing as Leo Bridey supports almost popular languages as English, French, Italian… By that you can easily access and expand customer network to different areas in over the world.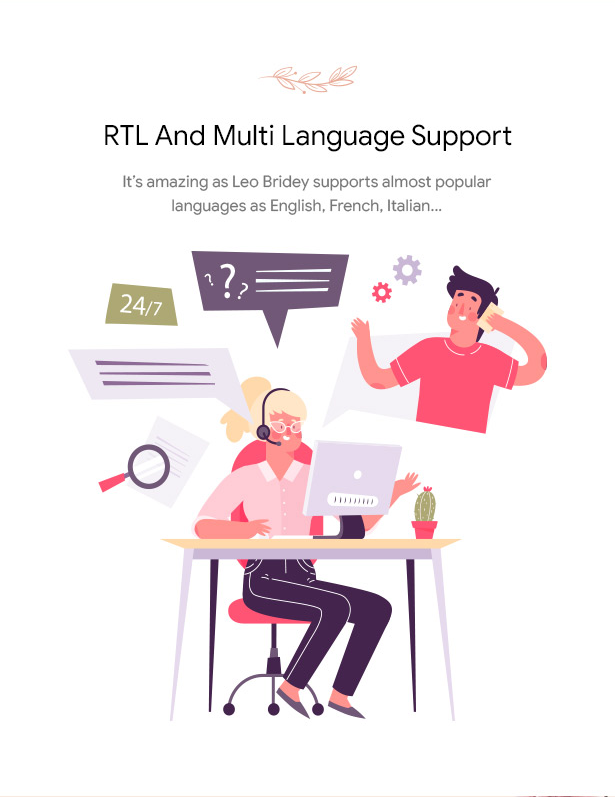 Highlight Outstanding Features of Leo QOS Fashion PrestaShop Theme
06+ Elegant Homepages Demos
Intuitive Mobile Friendly
Powerful Page Builder – Ap Page Builde
Clever Mega Menu
02+ Shop Pages Styles
Multiple Product Layouts
Attractive Lookbooks
Powerful Filter Systems
Awesome Ajax Search
Stunning Blogging Space
Easy change color template width via the Live theme editor Module.
Can add code css, js in backoffice
This Template compatible with Prestashop 1.7.x
We translate template to 6 languages.
Fully compatible IE10+, Firefox 2+, Firefox 3, Flock 0.7+, Netscape, Safari, Opera 9.5, Chrome.
Page builder Module: drag and drop, short code, landing page creator, custom field for product and category.
Product list builder in home page and category page., create product item for Desktop, laptop, tablet, mobile phone.
Product detail builder and support 7+ product layouts. , create product page for Desktop, laptop, tablet, mobile phone.
Product image thumbs bottom
Product image thumbs left
Product image thumbs right
Product image no thumbs
Product image no thumbs center
Product image no thumbs fullwidth
Product image gallery
Live edit theme: change background, text color, header and footer style
Mega menu module, blog module, responsive slideshow, video slideshow.
Fly cart, wishlist, add to compare, product tab, ajax search.
Search in blog and button share
Css3, SVG icons used.
Product Slider/Grid home page and category page
Look book module, product gallery module
Social block: Twitter, Facebook, Instagram, Pinterest.
Maximum load speed for google speed, SEO Optimization.
RTL and multiple language support
This Template is designed for desktop, all tablet and mobile devices
Colours Themes support (Yellow, Blue, Pink…) and Multiple header style
Template support for Jquery Effects, css 3. Multiples modules suffix's build-in template for module styling.
Impressive built-in content style.
SEO Optization & High Conversion Rate
Supports multiple layout options, configured within from back-office.
Easy to add custom html module, special, new, home feature via Leo Manage Widget Module
Support for native language file translation.
Our Support Chanel:
Helpdesk: Submit a ticket
Email Support: leotheme@gmail.com
Detail Documentation: Guide
Change log:
Version 1.0.0

        (+) Compatible: Prestashop 1.7.6.x
        
Version 1770 (Big update)
Module and file change in version 1.7.7.0 in folder theme

****templates change:
***Js file
assetsjstheme.js
*** tpl file
modulesps_bestsellersviewstemplateshookps_bestsellers.tpl
modulesps_brandlistviewstemplates_partialsbrand_form.tpl
modulesps_contactinfops_contactinfo.tpl
modulesps_contactinfops_contactinfo-rich.tpl
modulesps_crosssellingviewstemplateshookps_crossselling.tpl
modulesps_emailsubscriptionviewstemplateshookps_emailsubscription.tpl
modulesps_imagesliderviewstemplateshook slider.tpl
modulesps_shoppingcartmodal.tpl
Modulesps_supplierlistviewstemplates_partialssupplier_form.tpl
templates_partialsbreadcrumb.tpl
templatescatalog_partialsminiaturespack-product.tpl
Templatescatalog_partialsminiaturesproduct.tpl
Templatescatalog_partialsfacets.tpl
templatescatalog_partialsproduct-discounts.tpl
templatescatalog_partialsproduct-images-modal.tpl
templatescatalog_partialsproduct-cover-thumbnails.tpl
templatescatalog_partialsproduct-prices.tpl
templatescatalog_partialsproduct-variants.tpl
templatescatalog_partialsquickview.tpl
Templatescatalog_partialssort-orders.tpl
templatescatalog_partialsvariant-links.tpl
templatescatalogproduct.tpl
templatescheckout_partialscart-detailed-product-line.tpl
templatescheckout_partialscart-detailed-totals.tpl
templatescheckout_partialscart-summary-subtotals.tpl
templatescheckout_partialscart-voucher.tpl
templatescheckout_partialsorder-confirmation-table.tpl
templatescheckoutcheckout.tpl
templatescmsstores.tpl
templatescustomer_partialsaddress-form.tpl
templatescustomer_partialsblock-address.tpl
templatescustomer_partialsorder-detail-no-return.tpl
templatescustomer_partialsorder-detail-return.tpl
templatescustomerorder-return.tpl
templatescontact.tpl
templatessubproduct_infodefault.tpl
templatessubproduct_infoaccordions.tpl
*** Add new tpl file
templatescatalog_partialsproductlist.tpl
modulesps_emailsubscriptionviewstemplateshookps_emailsubscription-column.tpl

Version 1772
Module and file change in version 1.7.7.2 in folder theme

****templates change:
This version have not change file in folder theme compare to version 1.7.7.1

Version 1773
File change in version 1.7.7.3 compare 1.7.7.2 in folder theme

*** tpl file change in theme
modulesps_emailsubscriptionviewstemplateshookps_emailsubscription.tpl
modulesps_shoppingcartmodal.tpl
templatescheckout_partialscart-detailed-product-line.tpl
templatescatalog_partialsminiaturesproduct.tpl

Version 1782
Module and file change in version 1.7.7.8 in folder theme

****templates change:
*** Js file change in theme
assetstheme.js
assetsjserror.js
*** Tpl folder module in theme
modulesblockreassuranceviewstemplateshookblockreassurance.tpl
modulescontactformviewstemplateswidgetcontactform.tpl
modulesps_advertisingps_advertising.tpl
modulesps_bannerps_banner.tpl
ps_brandlistviewstemplateshookps_brandlist.tpl
ps_contactinfonav.tpl
modulesps_contactinfops_contactinfo.tpl
modulesps_contactinfops_contactinfo-rich.tpl
modulesps_categorytreeviewstemplateshookps_categorytree.tpl
modulesps_currencyselectorps_currencyselector.tpl
modulesps_customersigninps_customersignin.tpl
modulesps_emailsubscriptionviewstemplateshookps_emailsubscription.tpl
modulesps_emailsubscriptionviewstemplateshookps_emailsubscription-column.tpl
modulesps_linklistviewstemplateshooklinkblock-column.tpl
modulesps_linklistviewstemplateshooklinkblock.tpl
modulesps_sharebuttonsviewstemplateshookps_sharebuttons.tpl
modulesps_shoppingcartmodal.tpl
modulesps_shoppingcartps_shoppingcart.tpl
*** Tpl folder Template in theme
templates_partialsform-fields.tpl
templates_partialshead.tpl
templatescatalog_partialsminiaturesbrand.tpl
templatescatalog_partialsminiaturescategory.tpl
templatescatalog_partialsminiaturespack-product.tpl
templatescatalog_partialsminiaturesproduct.tpl
templatescatalog_partialscategory-header.tpl
templatescatalog_partialsfacets.tpl
templatescatalog_partialsproduct-additional-info.tpl
templatescatalog_partialsproduct-add-to-cart.tpl
templatescatalog_partialsproduct-cover-thumbnails.tpl
templatescatalog_partialsproduct-cover-thumbnails.tpl
templatescatalog_partialsproduct-customization.tpl
templatescatalog_partialsproduct-details.tpl
templatescatalog_partialsproduct-discounts.tpl
templatescatalog_partialsproduct-flags.tpl
templatescatalog_partialsproduct-images-modal.tpl
classictemplatescatalog_partialsproductlist.tpl
templatescatalog_partialsproduct-prices.tpl
templatescatalog_partialsproducts-top.tpl
templatescatalog_partialsproduct-variants.tpl
templatescatalog_partialsquickview.tpl
templatescatalog_partialssort-orders.tpl
templatescataloglistingproduct-list.tpl
templatescataloglistingcategory.tpl
templatescataloglistingproduct-list.tpl
templatescataloglistingsearch.tpl
templatescatalogproduct.tpl
templates/sub/product_info/tab.tpl
templatescheckout_partialsstepsaddresses.tpl
templatescheckout_partialsstepscheckout-step.tpl
templatescheckout_partialsstepspayment.tpl
templatescheckout_partialsstepsshipping.tpl
templatescheckout_partialsstepsunreachable.tpl
templatescheckout_partialsaddress-form.tpl
templatescheckout_partialsaddress-selector-block.tpl
templatescheckout_partialscart-detailed-actions.tpl
templatescheckout_partialscart-detailed-product-line.tpl
templatescheckout_partialscart-detailed-totals.tpl
templatescheckout_partialscart-summary.tpl
templatescheckout_partialscart-summary-product-line.tpl
templatescheckout_partialscart-summary-subtotals.tpl
templatescheckout_partialscart-summary-totals.tpl
templatescheckout_partialscart-voucher.tpl
templatescheckout_partialscustomer-form.tpl
templatescheckout_partialsorder-confirmation-table.tpl
templatescheckout_partialsorder-final-summary.tpl
templatescheckoutcheckout.tpl
templatescheckout_partialsheader.tpl
templatescheckout_partialsfooter.tpl
templatescheckoutorder-confirmation.tpl
templatescms_partialssitemap-nested-list.tpl
templatescmsstores.tpl
templatescustomer_partialscustomer-form.tpl
templatescustomer_partialslogin-form.tpl
templatescustomer_partialsorder-detail-no-return.tpl
templatescustomer_partialsorder-detail-return.tpl
templatescustomerguest-login.tpl
templatescustomerguest-tracking.tpl
templatescustomermy-account.tpl
templatescustomerorder-return.tpl
templatescustomerpassword-email.tpl
templateserrors404.tpl
templateserrorsmaintenance.tpl
templateserrorsnot-found.tpl
templateserrorsrestricted-country.tpl
templateslayoutslayout-both-columns.tpl
templateslayoutslayout-content-only.tpl
templateslayoutslayout-full-width.tpl
templateslayoutslayout-left-column.tpl
templateslayoutslayout-right-column.tpl
***  New folder
templates_partialsmicrodata
*** New file
templates_partialspagination-seo.tpl
templatescatalog_partialssubcategories.tpl
templatescheckout_partialscart-summary-products.tpl
templatescheckout_partialscart-summary-top.tpl
modulesps_imagesliderviewstemplateshookslider.tpl

---
Product Author:leo-theme