RATING: 0     |     SALES: 12
LIVE PREVIEWBUY FOR $20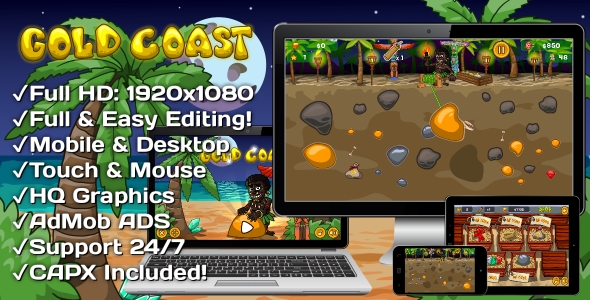 Gold Coast is a great game with very beautiful graphics and music. The goal of the game is to collect the required number of points for passing to the next level of the mine, you need to collect precious stones, gold, silver and bags with bonuses, also beware of explosive barrels, you can improve your achievements by shopping in the store. This game has 20 levels with a gradually increasing degree of complexity, and the game is ideally suited for mobile devices.
PC controls: Mouse.
Touch Control works on all browsers and all mobile devices!
Full Game;
HTML5 Mobile Optimized;
Mobile App Optimized;
Facebook Share;
Twitter Share;
GooglePlus Share;
One Touch Control;
Touch & Mouse;
Sound Fx;
Playable in all platforms (Mobile, PC, etc.);
Online Support 24/7;
Included APK File;
Included Files for Export to IOS & Android;
High Resolution: Full HD – 1920×1080px;
Simple Gameplay;
Easy to Reskin;
Easy to Add Content
Easy to Change Source;
No Programming Knowledge Needed!
HTML5 Game – Project Events: 262;
Mobile Game – Project Events: 273;
Including Constuct 2 and 3 files (.capx, .c3p all source).
Easy to change the image, just replace the image file! Customize your own game and put it on IOS or Android. Download official Construct 2 manual.
If you purchase any of my items, you will have full support! Just contact me and i will answer you as soon as possible and do our best to help you.
I will be very pleased if you rate my games in ★★★★★ stars!

---
Product Author:Muscle-SS