RATING: 5     |     SALES: 36
LIVE PREVIEWBUY FOR $29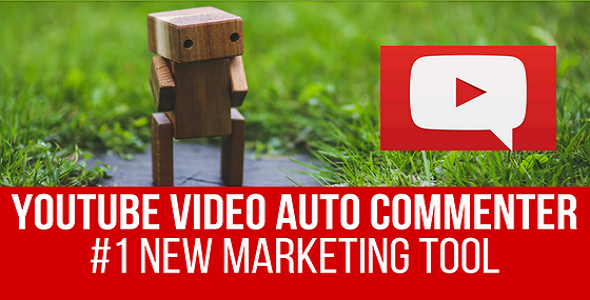 What Can You Do With This Plugin?
YouTube Video Auto Commenter Plugin for WordPress is a breaking edge WordPress to YouTube video comment creator plugin that is ideal for promoting your website. It uses the YouTube native PHP API to boost your website's traffic!
Thanks to it's ground breaking methods, comments generated by this plugin will generate interest for your website, by YouTube video viewers and commenters.
Using this plugin, you can automatically generate YouTube video comments based on posts you publish (manually or automatically) to your blog.
Plugin features:
automatically leave comments on YouTube channels or on different YouTube videos, based on a search mechanism
wide range of video search options: search for live broadcasts, search for 'YouTube Shows', turn on/off safe search, search in a specific region or by a specific language, search videos with captions, search only for HD videos, search for large resolution videos, search for long/short videos, search for movies, search based on video license, modify search order, and much more!
Google Translate support – select the language in which you want to post your articles
Ability to defined the maximum number of comments per day
Text Spinner support – automatically modify generated text, changing words with their synonyms – built-in, The Best Spinner, SpinRewriter, WordAI and others – great SEO value!
define publishing constrains: do not publish comments from posts that do not match some predefined rules (banned words, required words, category/tag filtering, etc)
customize generated comment content (with the included wide variety of relevant comment shortcodes)
detailed plugin activity logging
manually post comments for older posts on your blog
Testing this plugin
You can test the plugin's functionality using the 'Test Site Generator'. Here you can try the plugin's full functionality. Note that the generated testing blog will be deleted automatically after 24 hours.
Plugin Requirements

PHP 5.4 or higher
php CURL extension (install to Debian/Ubuntu etc with apt-get install php5-curl )
Need support?
Please check our knowledge base, it may have the answer to your question or a solution for your issue. If not, just email me at support@coderevolution.ro and I will respond as soon as I can.
Changelog:
Version 1.0 Release Date 2018-06-25
First version released!
Version 1.0.1 Release Date 2018-06-29
Added the ability to manually submit YouTube comments for existing posts
Added the ability to limit the maximum number of comments made by day
Version 1.0.2 Release Date 2018-09-11
Added the ability to use shortcodes in manual keyword search for YouTube videos
Version 1.0.3 Release Date 2018-12-25
Updated Google SDK
Version 1.0.4 Release Date 2019-01-17
Gutenberg sidebar widget support added
Version 1.0.5 Release Date 2019-04-19
Security update
Version 1.0.6 Release Date 2019-11-15
WordPress 5.3 compatibility update
Version 1.0.7 Release Date 2020-05-11
New features added for content templates
Bugfix update
Version 1.0.8 Release Date 2021-01-16
PHP 8 compatibility update
Are you already a customer?
If you already bought this and you have tried it out, please contact me in the item's comment section and give me feedback, so I can make it a better WordPress plugin!

WordPress 5.9 Tested!


Disclaimer
Please do not abuse commenting on YouTube (do not comment to often), because in this case, your account might be suspended! Please keep the number of comments below 1-2 per hour, and commenting should work fine.

Do you like our work and want more of it?
Check out this MEGA plugin bundle or this SOCIAL plugin bundle or this VIDEO plugin bundle.
---
Product Author:CodeRevolution