RATING: 0     |     SALES: 5
LIVE PREVIEWBUY FOR $15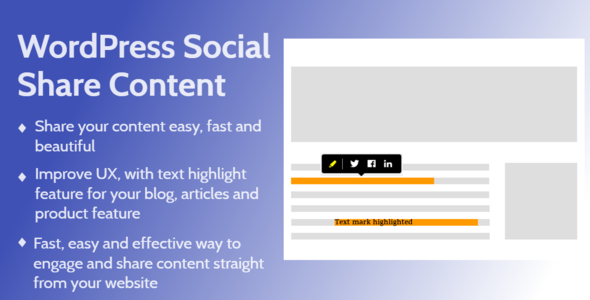 WP Social share content module makes sharing of your content easy, fast, and beautiful. Visitors can select your product/blog content and share/tweet it on various social media.
Key Benefits
Easily promote your awesome content through visitor
Simple but effective method to boost social shares.
Enhance Your Social Media With Easy Social Share
Social share content is a simple idea that visitor will share your product features with their social environment
You'll give your website visitors a fast, easy and effective way to engage and share content straight from your website to their social media channels.
Documentation/Live Demo
Support
Dear Customers, if you have a question/query with the plugin or need special customizing, please contact me at support@hrtdesign.com. I will do my best to answer as quick as possible. Don't give the plugin a low rate without contacting me on the issue you've faced with. I am always happy to help you out.
Change Log
v 2.2.0
New: Comment on highlighted text
New: Share highlighted text on mail
New: Settings to enable/disable social sharing tools
Fixed: Bugs Fixed

v 2.1.0
New: Added VK social media support

v 2.0.0
New: Added text highlight feature.
New: Admin can customize highlighted text colour according to the theme.

v 1.0.0
Initial release

---
Product Author:hrtdesign