RATING: 0     |     SALES: 35
LIVE PREVIEWBUY FOR $89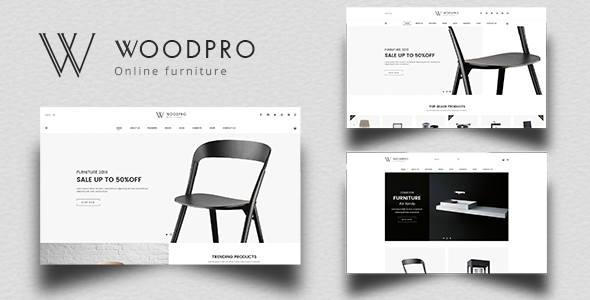 WoodPro Theme – Overview
WoodPro is exclusively built for Furniture architects, interior, exterior or landscape design and decoration websites. It is made with customers in mind, so even if you don't have extensive technical skills, you'll manage to create a good-looking, feature-rich, unique website by using WoodPro theme. Customers might feel they have a wonderful, perfect comfortable life.
It is powerful ThemeCustomizer with flexible settings, fast loading, premium modules, fast support and much more. The theme is built with new style and SEO optimized to make it friendly with search engines.
CHANGELOG
Version 1.7 – Jan 19, 2022

UPDATED: Ajax Builder in Shopping Cart

Version 1.6 – Oct 27, 2021

NEW: PrestaShop 1.7.8.x compatibility
FIXED: Could not be found modules on Addons when install theme

Version 1.5 – Dec 25, 2020

NEW: PrestaShop 1.7.7.x compatibility
FIXED: Conditions of the account registration form
FIXED: Title section filter in the page product category
FIXED: Effect when changing the page product category
UPDATED: Module Field Product Comment latest version

Version 1.4 – Apr 24, 2020

UPDATED: PrestaShop 1.7.6.5, 1.7.6.x compatibility

Version 1.3 – Mar 16, 2020

UPDATED: PrestaShop 1.7.6.4 compatibility

Version 1.2 – Jan 31, 2020

UPDATED: PrestaShop 1.7.6.3 compatibility
FIXED: Custom CSS does not work.
FIXED: "count() parameter must be an array or an object that implements countable" when install and uninstall modules.

Version 1.1 – Aug 14, 2019

FIXED: HTTP 500 Internal Server Error in Back Office to compatible with latest PrestaShop versions 1.7.6.x
FIXED: Compile Error: Declaration of AdminFieldMegamenuController::setMedia() must be compatible with AdminControllerCore::setMedia($isNewTheme = false)
FIXED: Pagination in category page does not work
FIXED: Title is cutted when edit HTML block in Back Office
FIXED: PHP Notice: Undefined index id in product page
FIXED: PHP Warning: sizeof() when enable debug mode
FIXED: PHP Warning: count() Parameter must be an array or an object that implements Countable
TWEAK: Checkbox icons in the Create Account page

Version 1.0 – Dec 8, 2018
Initial Release
---
Product Author:fieldthemes