RATING: 0     |     SALES: 3
LIVE PREVIEWBUY FOR $399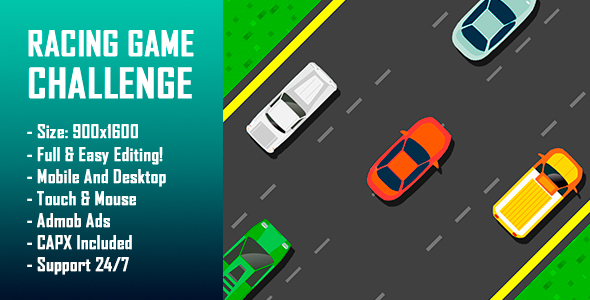 DESCRIPTION
Racing Game Challenge – this is a great racing arcade game with very beautiful graphics. The game is ideally suited for mobile devices.
Made in Construct 2. Enjoy the games!
HTML5 Mobile Optimized;
Mobile App Optimized Cocoon.io;
Share Button;
Touch & Mouse Controls – works on all browsers and all mobile devices
All platforms Support (Mobile, PC, etc.);
Online Support 24/7;
Included HTML5 Files and Source Files for Export to IOS & Android;
Cool Simple Gameplay and No Programming Knowledge Needed
High Resolution: Full HD – 900×1600px;
Easy to Reskin, Add Content, Change Source;
Including Constuct 2 files (.capx, all source).
Easy to change the image, just replace the image file! Customize your own game and put it on IOS or Android. Download official Construct 2 manual.
If you purchase any of my items, you will have full support! Just email me at https://codecanyon.net/user/gmsdev#contact and i will answer you as soon as possible and do our best to help you.
I will be very pleased if you rate my games in 5 stars!
More Games:
Games Bundles:
5 games in 1 bundle – 25% Discount
10 games in 1 bundle – 35% Discount
20 games in 1 bundle – 45% Discount
40 games in 1 bundle – 55% Discount
---
Product Author:HTML5-Games