RATING: 0     |     SALES: 8
LIVE PREVIEWBUY FOR $70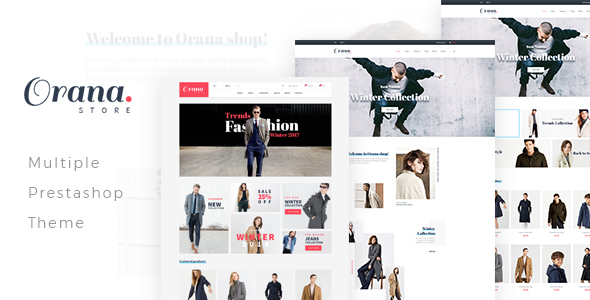 Details
Leo Orana Prestashop Theme is a fantastic multi-homepage Prestashop theme in version 1.7.2.x. Leo Orana is designed for any e-commerce store, especially suitable for fashion store. Its responsiveness makes it possible to be nicely displayed and absolutely adjustable in any screen sizes like desktop, tablet, laptop, or mobile phone.
Leo Orana Prestashop Theme is a perfect combination of powerful modules from Leo Theme like Leo Megamenu, Ap Pagebuilder, Leo Slideshow, and Leo Blog. Its elegant and modern look makes Leo Orana Prestashop Theme a beloved one right at the first sigh.
It's a must to stress Leo Megamenu with two types of menu, which are horizontal menu and vertical menu. These types make your site flexible, customizable as you want.
Moreover, beside the basic features of Ap Pagebuilder module like integrating many widgets, allowing users to build a well-organized layout by simple manipulations drag and drop, Ap Pagebuilder module with Count down feature helps admin manage to set the time for event or promotion, etc.
Importantly, Leo Feature with the newest update feature Fly Cart allows admin to create Fly cart with multi types such as dropdown, dropup, Sidebar left, sidebar right, sidebar top, sidebar bottom. The purchasing is now more convenient and interesting to customers as they can easily control what they add to cart, choose to buy or remove the selected product from their cart at every page on the site. As a result, users do not need to go to the checkout page for each time they want to check their cart, which is very time-saving.
Moreover, the powerful Panel tool permits user to selecting the layout style that they want or colors, float header. Live theme editor with many configs in terms of background, text font, font-size, text color, etc.
Finally, Leo Orana supports Css3, Html 5, RTL language layout and Bootstrap 4 Framework, which helps to create refined web pages with semantic accuracy and highly customizable prestashop theme.
Update Prestashop 1.7.3.3
Designed and completed with 7 layout styles for product detail page

Update Prestashop's default RTL: can use RTL of Leotheme or default RTL (note: default RTL only for version 1.7.3.0 upward)
Animation effect is flexible, frontend shows smoothly. Besides, other modules are updated to fit with version 1.7 like Megamenu, Slideshow, Live Theme Editor, Blog, etc. Especially, Leo Feature module with Wishlist, Compare, Review, Flycart (only add for version 1.7.2.x upward) & Default cart will bring the greatest experience for user.
Template Features
This Template compatible with Prestashop 1.7.x
This Template is designed for desktop, all tablet and mobile devices
Colours Themes support (Yellow, Blue, Pink…) and Multiple header style
Template support for Jquery Effects, css 3. Multiples modules suffix's build-in template for module styling.
Impressive built-in content style.
Supports multiple layout options, configured within from back-office.

Product image thumbs bottom
Product image thumbs left
Product image thumbs right
Product image no thumbs
Product image no thumbs center
Product image no thumbs fullwidth
Product image gallery

Easy to add custom html module, special, new, home feature via Leo Manage Widget Module
Easy change color, template width via the Leo Theme Control Panel Module.
Support for native language file translation.
We translate template to 10 languages.
Fully compatible IE10+, Firefox 2+, Firefox 3, Flock 0.7+, Netscape, Safari, Opera 9.5, Chrome.
Update Prestashop 1.7.4.x
Page builder Module: drag and drop, short code, landing page creator, custom field for product and category.
Product list builder in home page and category page.
Product detail builder and support 7+ product layouts.

Product image thumbs bottom
Product image thumbs left
Product image thumbs right
Product image no thumbs
Product image no thumbs center
Product image no thumbs fullwidth
Product image gallery

Live edit theme: change background, text color, header and footer style
Mega menu module, blog module, responsive slideshow, video slideshow.
Fly cart, wishlist, add to compare, product tab, ajax search.
Css3, SVG icons used.
Product Slider/Grid home page and category page
Look book module, product gallery module
Social block: Twitter, Facebook, Instagram, Pinterest.
Maximum load speed for google speed, SEO Optimization.
RTL and multiple language support
Change log:
Version 1.7.5.0
Change:
#448 merged Pull Requests (vs 210 in 1.7.3 and 260 in 1.7.4)
#2903 files changed (164812 insertions, 129497 deletions)
#2079 commits merged
#114 issues fixed
#75 people contributed!
SEO improvements in category page:
#The first page no longer has a duplicate URL with &page=1
#The category block is no longer displayed after the first page
#Improved default URLs for brands & suppliers (now are /brand/123-somebrand and /supplier/123-mysupplier instead of /123_somebrand and /123__mysupplier)
#Helper card in SEO & URL page
Product page
#Specific prices can now be edited
# SEO section now displays a preview so that you can see how your page would be shown in Google results
#When a product is taken offline, by default visitors will be redirected to the product's main category, instead of a "Not found" page.
#A "stock location" field has been added
Module management
#UX improvements on Module pages
#New module manager page with new categorization (Addons categories) and ability to manage modules by last use
New & fixed native modules
#The google sitemap module is now available for PrestaShop 1.7
#Favicon notifications in Back Office
#Buy Button Lite
#Cross selling module
#Viewed products
Installer
#During install, if there is a more recent stable version of PrestaShop available, it will suggest and allow downloading and installing the latest instead
#New languages in installer:Hindi, Bosnian, Mexican Spanish, Latvian, Galician, Arabic
Bugs fixes
#10638 - Undefined $urls index in ajax rendered template
#9942 - Add new referer error
#9916 - Viewed products don't work on fresh installed PS1.7
#9883 - Error in Chrome when hit back from product to category
#9697 - Unable to translate some strings in bank wire payment module
Symfony migration: Newly migrated pages
#Orders -> Delivery slips
#Orders -> Invoices
#Design -> Theme Catalog
#Design -> Positions
#Shipping -> Preferences
#Payment -> Payment Methods
#Payment -> Preferences
#International -> Localization -> Localization
#International -> Localization -> Localization
#International -> Translations (Page 1 out of 2)
#Shop Parameters -> Order Settings -> Order Settings
#Shop parameters > Traffic & SEO > SEO & URLs
#Advanced Parameters -> Database -> DB Backup
#Advanced Parameters > Webservice (hidden, because the page "Advanced Parameters > Webservice -> Add key" has not been migrated and it does not make UX sense to have only one of them)
#Advanced Parameters -> Logs
#Advanced parameters -> Email
Components and dependencies
#New Grid component
#Compatibility with Twig 2
#Improved compatibility with PHP 7.2
#The core theme is now built using Webpack 4 and includes jQuery 2.2.4
#Modules can now declare modern (symfony-based) Back Office controllers and use the UI kit
#Modules can now declare and use Symfony commands
#Read about possible module regressions
New hooks
#action{GridId}GridQueryBuilderModifier
#action{GridId}GridDefinitionModifier
#action{GridId}GridDataModifier
#action{GridId}GridFilterFormModifier
#action{GridId}GridPresenterModifier
#actionFrontControllerSetVariables
Version 1.7.4.1
Back Office:
Improvement:
#9311: Apply shop context in configuration
Bug fix:
#9299: Fix error while duplicating a product when catalog specific price rules are stored
#9297: Fix display when a module uses $this->bootstrap = false;
#9261: Update Controller name for link generation to modules catalog
#9268: Added .htaccess to var folder
Front Office:
Bug fix:
#9315: Fix not visible category display
#9295: Fix free shipping display on cart
#9270: Apache 2.4 configuration
#9252: Add combinations in cart summary
Core:
Bug fix:
#9288: Fix Cart::isVirtualCart() method when cart is empty
#9298: Fix/remove mbo from tests
#9220: Ability to use widget block from specific hook
#9269: Update ps_themecusto to version 1.0.6
#9237: Fixed bug with friendly URLs and Media Servers
#9101: Fix have cart rule today
Installer:
Improvement:
#9302: Reduce the number of ajax calls if the fixtures are not too larges and if there's enough memory available
Bug fix:
#9271: Catch more exceptions during install & display the error intead of a JS error
#9258: Limit subquery results in upgrade sql 1.7.0.0
Version 1.7.3.3
Back Office:
Bug fix:
#9026: Fixed display error on back office module selection list
Front Office:
New feature:
#9099: Follow-up to: display GDPR consent checkbox in contactform
Improvement:
#9104: Add compliance to GDPR law for ps_emailsubscription module
Here is the complete list of changes for 1.6.1.19
Back Office:
Bug fix:
#8785: Fix directory listing
Front Office:
Improvement:
#9103: Add compliance to GDPR law for blocknewsletter, contact form and mail alerts
Version 1.7.3.1

Back Office:
New feature:
#8849: Add User club and UserVoice on BO link footer
Improvement:
#8664: Change employee icon
#8500: Make sure shop list in header is scrollable with lot of items
#8780: Improve BO speed by removing menu images
#8725: Replace Google+ link on BO footer by Youtube link
Bug fix:
#8925: Stop generating RTL css file for the default theme using SASS
#8921: Fixed CDN management in Performance page
#8871: Improved rendering of combinations in Product page
#8779: Little css override for modal title
#8631: Request module zip for upgrade ONLY when the version available is higher
#8714: Update loaded details from database on module action
#8696: Fix translation issue during language install
#8648: Fix modal backdrop not removed when uninstalling a module
#8618: Fix type warning in order detail
#8525: "No tax" price option is now well saved in admin product page
#8476: Fix customer search in new order form
#8234: Fixed bug on save specific price priority for specific product
Front Office:
Bug fix:
#8873: Fix contactform module issues
#8856: Fixed undefined variables when an url is called in ajax
#8847: Override advertising module on classic template to fix image width
#8845: Fix search bar on header when it moves from hook and improve header structure #2
#7775: Resolve incompatibility between canonical redirections, attributes and product route not only containing rewrite
#8846: Fix menu width and submenu hover on header
#8522: Fixed specific price percentage rounding on front product page
Core:
Improvement:
#8867: Rely on the right legacy container if available on modules
#8584: Update toCamelCase
#8795: Minor improvements during install
Bug fix:
#8922: Fixed access to Front Office container from modules
#8766: Show unit price within a tax in order confirmation e-mail
#8607: Fix pack stock issues
#8711: Default AJAX Relevance search sort order is wrong
#8803: Stop full object exposure on the front end
#8708: Debug of Tools::strReplaceFirst that do not correctly compare the return of strpos + PhpDoc
#8498: Fixed bug on reorder with free gift in the cart
#8543: Layout broken by cache clear
#8669: Make sure all adresses are reset on cart
#8462: Fix empty module return on actionEmailSendBefore breaks all email send
#8277: CustomerAddressFormatter states were queried without the status (active) check causing disabling states in BO useless
Installer:
Improvement:
#8860: Make the dezipper great again
#8806: Sample products in FA
Bug fix:
#8913: Fix issue with pack in fixtures (installer)
#8891: Fix dezipper redirect
#8858: Include docs when creating zip build
Tests:
New feature:
#8812: Delete product
#8829: Add script for screenshot display on Travis
Improvement:
#8881: Check the pagination of product in the Front Office
#8898: Check generated combinations table
#8903: Add some fixes to the script
#8813: Check the product discount in the Front Office
#8805: Reset module Welcome if the RESUME button does not exist
#8878: Check the appearance of tinymce field on the product page
#8854: Check the change of the default combination from the edition page
#8819: Fix sort product script
#8810: Check the total price in the shopping cart
#8815: Re-enable functional tests
Bug fix:
#8842: Fixed Travis build (update Chrome browser version)
#8746: Make file copy on ModuleSelfConfiguration mockable

Version 1.7.2.3

(+) Add new

---
Product Author:leo-theme