RATING: 0     |     SALES: 12
LIVE PREVIEWBUY FOR $8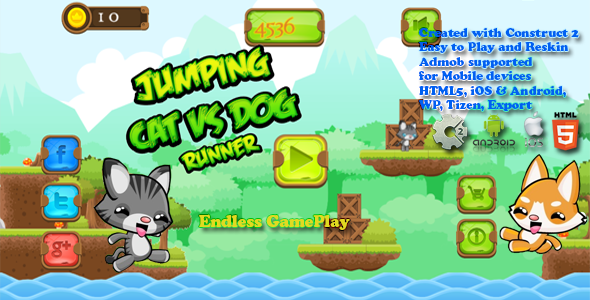 Limited Special Discount price!!!
Character auto switch. Appealing BGM and Graphics. New Concept. If you like Please rate this item.Thanks in advanced
Created with Best html5 game software Construct 2 So, expect a clean code with no warnings and no errors guaranteed! Jumping Cat & Dog Runner is a modern twist on a classic game! The rules are simple. Hit Touch or Click the screen to Jump the character.
Capx will help to you in your future projects.
Contact me if you want to know how to add Vungle, Chartboost, Adcolony, many more ad network to this capx. i will not charge you extra Export : Intel XDK, But best is Cocoon.io , just download Cocoon.io plugins and use admob and canvas plus from it.
For your convenient current version of plugin is
included.https://github.com/CocoonIO/cocoon-plugins-c2
You can Make Money from first day of purchase. As Google Admob is implemented and also can use other ad networks:
Features:
—————————————————
AdMob – New Version!, Included Top Banner & Fullscreen + Instructions!;
Full Game;
HTML5 Mobile Optimized;
Mobile App Optimized Cocoon.io;
Google Analytics;
Facebook Share;
Twitter Share;
Gogoole+ Share;
One Touch Control;
Character auto switch after touching to new base
Beautiful Design -Unlimited Gameplay
Touch & Mouse;
Sound Fx;
Playable in all platforms (Mobile, PC, etc.);
Included Files for Export to IOS & Android;
High Resolution: Full HD
Simple Gameplay;
Easy to Reskin;
Easy to Add Content
Easy to Change Source;
No Programming Knowledge Needed!
Including Constuct 2 file, 2pcs – HTML5 GAME & MOBILE GAME (.capx – all source).
You can Add new ad network lile Unity Ads, Vungle reward video and many more with importing new plugins
---
Product Author:taby27