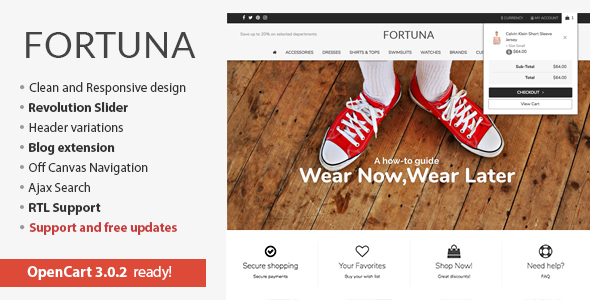 A modern and responsive layout, elegant design for a beautiful online store
Fortuna is a clean, modern and responsive OpenCart theme..
Choose one of beautiful skins included or customize it with your own colors and backgrounds directly from the admin panel.
Every detail of Fortuna has been carefully designed to keep the clean and beautiful design. Special care has been taken in the shopping cart and checkout to give you high conversion rates, while retaining the whole great design
It has been built with mobile users in mind. So it looks great on desktops, tablets and mobiles.
You don't need any HTML/CSS knowledge to install this theme. Just upload and enable the theme and module, that's all.
If you like the theme, don't forget to rate it
Main Features
Built on HTML5: Future proof design with latest technologies.
Twitter Boostrap Framework. Amazing CSS framework for solid design
Categories accordion: A great module when you have a lot of categories.
Fully responsive: looks great on laptops, tablets and mobiles (don't forget to view demo in a mobile device or just resize your browser).
Choose your own colors and backgrounds: customize your site colors and upload your own backgrounds from the admin panel easily.
Cloud zoom integrated Zoom your product images on rollover.
Simple column or with sidebar: With a single click hide the sidebar to focus on the main content!
Custom homepage slideshow: fully responsive too.
Elegant and clean design which is enhanced by some pretty jQuery effects.
Clean HTML/CSS: if you want to digg in the code, you will find it easy and well organized.
SEO optimized. Semantic, clean code. Search engines will love your site.
Greatly enhanced Opencart layout (no more tables) making it easier to maintain and more user friendly than standard.
Cross browser compatible: it works fine under any modern, major browser(IE7+, Google Chrome, Mozilla Firefox, Apple Safari and Opera).
PSD files supplied: Just in case, because Fortuna is pure CSS
Facebook Fan Box. Get more fans easily!
Google fonts: you can select them in the backend.
Custom elegant social icons: elegant and efficient to link to your social profiles.
Compatibility
This theme supports OpenCart versions 2.2.0, 2.3.0.2.
Updates
Don't forget to update your theme! Download the .zip package from your themeforest account and replace
the old files with the new ones provided.
Ver. 1.7.2 – 01/07/2019
Added product video feature
Fixed gallery alignment on quick view
Fixed some CSS issues
Ver. 1.7.1 – 08/09/2018
Added More product gallery layouts
Added Fortuna – Banner module.
Added Fortuna – Feature Block module.
Added Fortuna – Slideshow module.
Updated CSS styling.
Ver. 1.7.0 Release: 09/10/2017
Updated Added compatibility with OpenCart 3.0.2
Updated CSS styling.
Updated vQmod extensions converted to OCMOD.
Ver. 1.6.1 Release: 10/12/2015
Fixed Blog link missing on the admin panel menu
Fixed Issue with the add to cart button in the wish list.
Fixed Issue with filter module.
Updated Modules will show products in vertical mode when assigned to the sidebar
Ver. 1.6.1 Release: 10/08/2015
Added Blog Extension
Added Off Canvas menu
Added Sample data
Updated Modules will show products in vertical mode when assigned to the sidebar
Updated Small CSS tweaks
Ver. 1.5.1 Release: 04/10/2014
Added OC2.0.2 compatility
Updated Full wdith slideshow mode
Fixed Issue with the custom information field on the header
Updated Small CSS fixes
Removed Files for OpenCart 1.5.3.1 are no longer included in the package.
Ver. 1.5.0 Release: 12/18/2014
Added OC2.0 compatibility
Added Megamenu: categories, custom links, sticky menu, etc.
Added Multilanguage support on Theme Options module
Added Quick View module
Added Rollover images
Updated Social icons
Updated Small CSS fixes
Ver. 1.4.0 Release: 11/12/2013
Updated to Bootstrap 3. All .tpl, .css and some .js files changed.
Added -/+ signs in quantity box on product page.
Updated 3rd level vqmod extension.
Dropped support for OpenCart 1.5.2.1
Ver. 1.3.1 Release: 08/12/2013
Added compatibility with OpenCart 1.5.6
Updated to Bootstrap 2.3.1
Ver. 1.3.0 Release: 05/12/2013
Updated Fortuna Theme Options module with new options and layout
Options to control subcategory thumbnails from the admin panel
Choose default presentation for categories Grid or List
Enhanced modules in carousel mode to display correctly with RTL languages
Added option to control Facebook icon and button
CSS fixes
Ver. 1.2.1 Release: 01/24/2013
Compatibility with OpenCart 1.5.5.1
Updated Previous/Next product to cycle on the same category
Fixed issues with grid view not displaying height correctly
CSS fixes
Ver. 1.2.0 Release: 11/25/2012
Added support for large desktop size (>1200px)
Added Nivo and Camera sliders
Added controls for Slideshow speed
Added related products module
Added tabbed products module
Added more font options
Added option to display 3 or 4 products on each row
Added option to change from tabs to accordion on product page
Added more controls for product image zoom
Added extension to display 3rd level menu (vqmod)
Added field to embed custom JavaScript code
Added option to display mobile menu as select box
Added Instagram profile icon
Payment methods templates removed to use the default ones
Bootstrap Framework updated to 2.2.1
Fixed alignment issue when iPad is rotated
Fixed problem with vertical scroll on carousels
Hide Wishlist and Compare options on the admin panel instead of vqmod
Updated classes for buttons (.btn to .button) to improve compatibility with some extensions
CSS fixes
Updated documentation
Ver. 1.1.0 Release: 09/13/2012
Added option to enable/disable responsive layout
Added prev/next product (vqmod)
Added custom body classes (vqmod)
Moved hide wishlist and comparison to vqmod
Moved product image zoom to vqmod
Fixed subcategory thumbnails for compatibility with other modules
Added more custom color options in the theme module
Minor CSS fixes
Updated documentation
Ver. 1.0.3 Release: 08/22/2012
Tested for compatibility with OpenCart 1.5.4.1
Updated Facebook Like Box script to fix layout issues in some browsers
Ver. 1.0.2 Release: 08/01/2012
CSS Fixes for IE
Facebook Fan Box fixed
Custom CSS code with html entities fixed
Fixed bug in edit address form
Ver. 1.0.1 Release: 07/07/2012
HTML version is included in the package
Added Add to Compare function
Add to Compare and Add to Wishlist can be disabled on the admin panel
Sidebars can be used on product page
In minicart the total is updated correctly when a new product is added
Option to display always the Add to Cart button
New social icons
Fixed header info text issue
See Changelog in documentation file for older changes.