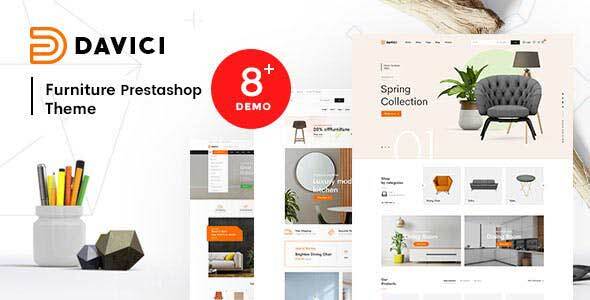 Davici Elementor Interior Prestashop Theme is suitable for any store. With 08+ minimal layouts and contents, you can choose any homepages for your furniture store, home garden shop, home living, wooden shop, home-decor online store, decoration shop, furniture interior design shop, woodshop, Architecture shop, etc and can be used for any websites.
This Interior theme is fully responsive, it's perfect for all devices like iPhone, iPad, laptop, desktop,… Especially, Davici built with Rb Theme Dream – newest Elementor Page Builder providing you an advanced Intuitively tool with visual drag & drop page builder, pixel perfect design, and no coding.
What's more? Davici is more powerful with smooth Rb Theme Slider (version 2.0), professional Mega Menu, Ajax search & filter, one-click Installation, Prestashop size chart module, real-time customizer, unlimited color skins, SEO optimization, multiple languages support, and 50+ other widgets & modules. Moreover, this theme support React Native app for IOS & Android (a fee). If you want to know more information, please contact us by ticket.
With tons of essential built-in features, this Elementor Furniture eCommerce theme will be a smart choice. Click live demo now to experience!
Meet the Best Multipurpose Prestashop Theme for the Smooth Performance on any device!
1. Onsite Build with RB Theme Dream Elementor
Build and customize every part of your website intuitively with Elementor's visual builder. Zero coding is required.
2. Fully responsive and Mobile optimized
Davici uses tools, advanced strategies, and experiments to improve the performance of your website on any device, allow your site to adapt to different screen sizes which means that whatever device your web visitors are using they get the best possible view of your store
3. High-speed optimization
Having a fast site is essential — not just for ranking well for searching, but for keeping your bottom-line profits high. So Davici is the best choice, this theme integrated everything you need for a website online.
4. One-click installation
One of the best things about Davici is that it's incredibly easy to get started with, including the process of installing and setting up your website. One-click import tool helps you set up any homepage layout in no time.
5. 50+ Widgets options to choose
The theme is compatible with multiple Widgets. It's a stunning tool that allows you to manage and control your Prestashop widgets easily. Check it now!
6. Flexible headers & Footers Builder
Davici is available multiple headers and footer styles, many choices you to create any stunning website
Davici Elementor – Powerful Furniture & Interior Ecommerce Prestashop Store
7. 08+ Awesome Homepage Styles
Each demos are unique and use different elements which are interchangeable between demos. Choose the demo that will suit your requirements in the best way
8. 04+ Appealing Collection Page Layouts
The ultimate collection is crafted by world-class designers. Use a pre-built section block with a single click. Build a category page with different section blocks to create unique combinations with ease.
9. Full function product page
We have included many layouts to display many functions on the product page. The useful information blocks are placed strategically so visitors can quickly find the information they need. Attach your customer by choosing any of these layouts.
10. Beautiful Blog Page
A minimal and elegant way to make your blog stand out from the crowd
Other Powerful Features of Davici Decoration Ecommerce
You don't need to pay for any additional modules. All features are inbuilt with Davici. Also, this will make your store load faster
Outstanding Features of Multiple Prestashop Theme 1.7
This Template compatible with Prestashop 1.7.7.x
Stunning Decoration & Interior Homepage Demos
Powerful Front End Theme Editor with Instant Live Preview
Elementor Page builder with 50+ Widget – Live Drag & Drop Page Builder for home page
Drag & Drop Mega Menu Builder, visual drag/drop backend, support both vertical & horizontal menu
RB Theme Slider with a Visual Slider Building Mode – The most Powerfull slider in the World – build and animate the sliders faster than ever.
Amount left to Free delivery count
Size charts, wishlist, product reviews, product compare, quick view – popup modules, size guide module, next prev product
Rb Product Detail module: displays button add to cart when the customer scrolls the page
Popup sale module – Show latest sale popup notifications to boost sale dramatically
Support multiple color skins, multiple headers and footers styles
Impressive built-in content style
Support Jquery Effects, Bootstrap 4, Html5, Css3, multiple modules suffix's build-in template for module styling
Support for native language file translation
Fully compatible IE10+, Firefox 2+, Firefox 3, Flock 0.7+, Netscape, Safari, Opera 9.5, Chrome.
Blog module, video slideshow support
Look book module, product gallery module, image hotspot widget
Social block: Twitter, Facebook, Instagram, Pinterest.
This Template is designed for desktop, all tablet and mobile devices, fully responsive
SEO Optization & High Conversion Rate
Supports multiple layout options, configured within from back-office.
Full React Native App for IOS & Android (Prestashop Mobile App) is available
Our Support Channels:
Change log:
Version 1.0.3
Module and file change in Prestashop 1.7.8.0 in folder theme

  ****templates change:

  *** Js file change in theme

  assetstheme.js
  assetsjserror.js

  *** Tpl folder module in theme

  modulesblockreassuranceviewstemplateshookblockreassurance.tpl
  modulescontactformviewstemplateswidgetcontactform.tpl
  modulesps_advertisingps_advertising.tpl
  modulesps_bannerps_banner.tpl
  ps_brandlistviewstemplateshookps_brandlist.tpl
  ps_contactinfonav.tpl
  modulesps_contactinfops_contactinfo.tpl
  modulesps_contactinfops_contactinfo-rich.tpl
  modulesps_categorytreeviewstemplateshookps_categorytree.tpl
  modulesps_currencyselectorps_currencyselector.tpl
  modulesps_customersigninps_customersignin.tpl
  modulesps_emailsubscriptionviewstemplateshookps_emailsubscription.tpl
  modulesps_emailsubscriptionviewstemplateshookps_emailsubscription-column.tpl
  modulesps_linklistviewstemplateshooklinkblock-column.tpl
  modulesps_linklistviewstemplateshooklinkblock.tpl
  modulesps_sharebuttonsviewstemplateshookps_sharebuttons.tpl
  modulesps_shoppingcartmodal.tpl
  modulesps_shoppingcartps_shoppingcart.tpl

  *** Tpl folder Template in theme

  templates_partialsbreadcrumb.tpl
  templates_partialsform-errors.tpl
  templates_partialsform-fields.tpl
  templates_partialshead.tpl
  templatescatalog_partialsminiaturesbrand.tpl
  templatescatalog_partialsminiaturescategory.tpl
  templatescatalog_partialsminiaturespack-product.tpl
  templatescatalog_partialsminiaturesproduct.tpl
  templatescatalog_partialscategory-header.tpl
  templatescatalog_partialsfacets.tpl
  templatescatalog_partialsproduct-additional-info.tpl
  templatescatalog_partialsproduct-add-to-cart.tpl
  templatescatalog_partialsproduct-cover-thumbnails.tpl
  templatescatalog_partialsproduct-customization.tpl
  templatescatalog_partialsproduct-details.tpl
  templatescatalog_partialsproduct-discounts.tpl
  templatescatalog_partialsproduct-flags.tpl
  templatescatalog_partialsproduct-images-modal.tpl
  templatescatalog_partialsproductlist.tpl
  templatescatalog_partialsproduct-prices.tpl
  templatescatalog_partialsproducts-top.tpl
  templatescatalog_partialsproduct-variants.tpl
  templatescatalog_partialsquickview.tpl
  templatescatalog_partialssort-orders.tpl

  templatescataloglistingcategory.tpl
  templatescataloglistingproduct-list.tpl
  templatescataloglistingsearch.tpl
  templatescatalogproduct.tpl

  templatescheckout_partialsstepsaddresses.tpl
  templatescheckout_partialsstepscheckout-step.tpl
  templatescheckout_partialsstepspayment.tpl
  templatescheckout_partialsstepsshipping.tpl
  templatescheckout_partialsstepsunreachable.tpl
  templatescheckout_partialsaddress-selector-block.tpl
  templatescheckout_partialscart-detailed-actions.tpl
  templatescheckout_partialscart-detailed-product-line.tpl
  templatescheckout_partialscart-detailed-totals.tpl
  templatescheckout_partialscart-summary.tpl
  templatescheckout_partialscart-summary-product-line.tpl
  templatescheckout_partialscart-summary-subtotals.tpl
  templatescheckout_partialscart-summary-totals.tpl
  templatescheckout_partialscart-voucher.tpl
  templatescheckout_partialscustomer-form.tpl
  templatescheckout_partialsorder-confirmation-table.tpl
  templatescheckout_partialsorder-final-summary.tpl
  templatescheckoutcheckout.tpl
  templatescheckoutorder-confirmation.tpl

  templatescms_partialssitemap-nested-list.tpl
  templatescmsstores.tpl

  templatescustomer_partialscustomer-form.tpl
  templatescustomer_partialslogin-form.tpl
  templatescustomer_partialsorder-detail-no-return.tpl
  templatescustomer_partialsorder-detail-return.tpl
  templatescustomerguest-login.tpl
  templatescustomerguest-tracking.tpl
  templatescustomermy-account.tpl
  templatescustomerorder-return.tpl
  templatescustomerpassword-email.tpl

  templateserrors404.tpl
  templateserrorsmaintenance.tpl
  templateserrorsnot-found.tpl
  templateserrorsrestricted-country.tpl
  templateslayoutslayout-both-columns.tpl
  templateslayoutslayout-content-only.tpl
  templateslayoutslayout-full-width.tpl
  templateslayoutslayout-left-column.tpl
  templateslayoutslayout-right-column.tpl
  templatespage.tpl

  ***  New folder 
  templates_partialsmicrodata

  *** New file
  templates_partialspagination-seo.tpl
  templatescatalog_partialssubcategories.tpl
  templatescheckout_partialscart-summary-products.tpl
  templatescheckout_partialscart-summary-top.tpl
  modulesps_imagesliderviewstemplateshookslider.tpl

Version 1.0.0 (Prestashop 1.7.7.5)
 
Compatible Prestashop 1.7.7.x