RATING: 0     |     SALES: 4
LIVE PREVIEWBUY FOR $49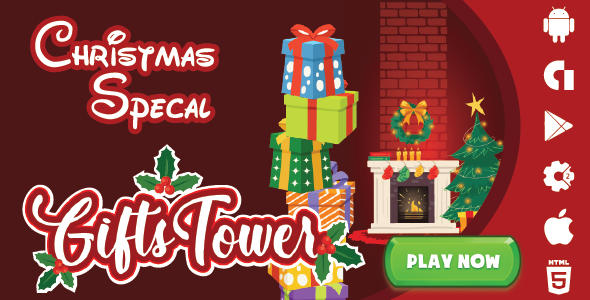 Christmas Gift Tower – HTML5 Mobile Game AdMob (Construct 3 | Construct 2 | Capx)
Reskin service available (contact us)
Features:
Full Game;
HTML5 Mobile Optimized;
Mobile App Optimized Ludei;
One Touch Control;
Touch & Mouse;
Sound Fx;
Playable in all platforms (Mobile, PC, etc.);
Online Support 24/7;
High Resolution
Simple Gameplay;
Easy to Reskin;
Easy to Add Content
Easy to Change Source;
No Programming Knowledge Needed!
Project Events:175;
Including Constuct 2 file (.capx ? all source).
Customize:
Easy to change the image, just replace the image file! Customize your own game!! Put it on ios or android!!!
---
Product Author:azeemdreamsdesigner