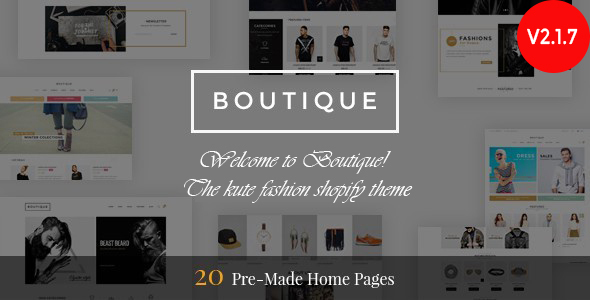 Highly recommend Email Marketing app

Boutique is a Shopify themes which have a hundred options and you can create a lot of layouts by mix all sections already integrated from themes. Why you need another themes when Boutique have all things you need for the real online store ? Only 59$ and you have all, money is your…don't waste
Dynamic checkout button
Boutique v1.1.2 with Ryviu and new homepage is available now
Boutique v1.1.1 with QuickShop is available now
Boutique v1.1 is available with new homepages
Boutique is a modern, clean and professional Shopify Theme, It is fully responsive, it looks stunning on all types of screens and devices.
It is super for fashion shop, handmade shop, accessories shop, glasses shop,… or any other categories.
Highly recommend PDF Invoice app
WHY BOUTIQUE ?
EASY CUSTOMIZE
A great collection of beautiful website templates for your need. Choose the best suitable template and start customizing it with Boutique built on Shopify's section system, customization options, advanced color management and more…
RESPONSIVE DESIGN
Boutique is a wonderful responsive theme with 20 homepages available and you can easily find out the homepage you want among many choices. The theme is tested to be 100% responsive with all devices. Friendly mobile display should be given priority to check.
EASY DOCUMENT and FAST SUPPORT
We have online document, video tutorial which can help you easy to control the theme. Still not enough ? we have the fastest customer support, we will help you solve your issue in minute. Check our review
Powerful Form Builder
Would you like to add a custom form to Boutique? Boutique theme has default Shopify form contact. If you need a complex form on any page, you should install Powerful Form Builder. The app has free plan for you. You only have to upgrade if you need upload file via form.
Theme features
Multi-Purpose Design
Nitro Slider Shopify app
Easy to Import Demo Config
Auto currency
Product Grouped
Unlimited variant image
20+ available home page layouts
Multiple Page Styles
Social Sharing Features
Responsive Design
Unlimited Colors & Layouts
Unique Homepage Layouts: More Amazing Concepts Are Coming Soon!
Fully Responsive (Tested on Multiple Devices)
Modern & Clean Design
HTML5 and CSS3 Tableless Design
Ajax Product Filter Support
Wishlist Support
Compare Support
Quick View Support
Zoom Magnifier Support
Currency Switcher Support
Mega Menu
Sticky Menu
Powerful Theme Options
Validate HTML5 Code
Unlimited Different Headers & Footers
Elegant Animations
500+ Google Fonts with Preview Capability
Flat Design Style
Grid Or List View
Nice Rollover Effect For Products View
Images With jQuery Inner Zoom
Ajax: Add To Cart, Wishlist and Compare
Clean Block Cart Module
AND MUCH MORE
Customers said about Boutique
Most Popular Shopify Theme
Creadit
Image Sources
Note: All images are just used for Preview Purpose Only. They are not part of the theme and NOT included in the final purchase files.
Another awesome items from The4
Change Log

18/Dec/2019: Released version 2.1.7.5
- Fixed Quickview
- Fixed Cart popup
- Fixed Home 1 + Home 8 + home 13
- Fixed Search bar


12/Oct/2018: Released version 2.1.7.2
- Fixed Importdemo
- Fixed Font Awesome
- Fixed Video product page


13/Sept/2018: Released version 2.1.5
    - Added Get shipping
    - Updated Slideshow content text
    - Fixed Ajax search
    - Fixed Recently product
    - Fixed Dropdown header
    - Fixed Fonts
    - Fixed Auto calculator shipping


13/Jul/2018: Released version 2.1.2
- Fixed Recently product
- Fixed Cookie bar
- Fixed Auto currency


02/July/2018: Released version 2.1
- Fixed Nitro slider issue
- Update document


21/May/2018: Released version 2.0.2
- Fixed Menu mobile
- Fixed Slick slideshow
- Fixed Admin customize


19/Apr/2018: Released version 2.0.1
- Update Translate Quick Shop button
- Fixed Masonry products layout
- Fixed Swatches variant
- Fixed Import tool
- Update document for Boutique 2.0


16/Apr/2018: Released version 2.0.0
- Added Home page 19
- Added Home page 20
- Update Fastest
- Update Clean and mini code
- Update Flexible filter
- Fixed Auto add tag product


21/Mar/2018: Updated to version 1.1.5
- Updated Home 18
- Added 2 new section( Slideshow and Categories)
- Updated Home page 18
- Updated Tutorial upload svg logo
- Fixed Slick slideshow
- Fixed Compare in Products list page
- Fixed Avatar testimonials


16/Mar/2018: Updated to version 1.1.3
- Added Stock cowntdown
- Updated Support image display on rentina
- Updated Slick slideshow
- Fixed Collection sort by
- Fixed Collection lazyload
- Fixed Product swatches
- Fixed Product page


08/Mar/2018: Updated to version 1.1.2
- Added 2 new sections ( instagram + products tabs)
- Updated Home page 17
- Updated Quick shop function
- Updated Support Ryviu app
- Fixed Admin theme tools


02/Mar/2018: Updated to version 1.1.1
- Added QUICK SHOP function
- Added 3 new section
- Updated Cart Popup
- Updated Auto calculator shipping
- Fixed Product page
- Fixed Header currency dropdown
- Fixed Compare Responsive


24/Feb/2018: Updated to version 1.1.0
- Updated Home page 15
- Updated Home page 16
- Updated Style label product
- Updated FAQ's page
- Fixed Megamenu


21/Feb/2018: Released to version 1.0.3
- Fixed Font icon
- Fixed CSS
- Fixed Responsive
- Fixed Cart popop
- Fixed Auto calculator shipping


09/Feb/2018: Released to version 1.0.2
- Fixed Product page
- Fixed Responsive
- Fixed Image background page
- Fixed Google Rich Snippets
- Added Compare products
- Added Variant color in product grid
- Added Trust image on product page
- Added Real time Visitor on product page
- Added Back to top button


05/Feb/2018: Released version 1.0.1
- Fixed Product page
- Fixed Collection page
- Fixed Responsive
- Added Recently viewed products


31/Jan/2018: Released version 1.0.0
- You need read instruction in documentation folder