RATING: 0     |     SALES: 9
LIVE PREVIEWBUY FOR $49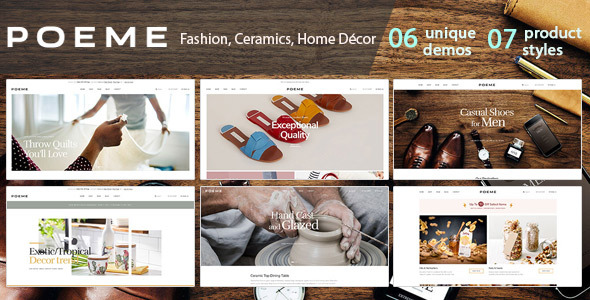 Bos Poeme – Multipurpose Prestashop Theme 2019
Bos Poem PrestaShop Theme – a modern Prestashop Furniture Theme is developed by Leotheme Team for Fashion, Ceramics and Pottery, Home Décor, Shoes, Food, Home Rugs, Vegetarian Seeds & Nuts, Decoration, etc
Latest Version 1.7.7.3 – April 14th, 2021 Changelog
PrestaShop 1.7.x Ready
Powerful Leotheme Framework 4.0 with PrestaShop Modules Integrated
Poeme, an elegant and professional multipurpose PrestaShop theme is well-built with an appealing look and rich functionality. Poeme comes with 06+ unique homepage demos, each of them owns trendy minimal design to be a perfect fit for any business such as Fashion, Ceramics and Pottery, Home Décor, Shoes, Food, Home Rugs, Vegetarian Seeds & Nuts, Decoration. Scroll down to explore how wonderful Poeme is and how passionate we stuff on it!
Why do you fall in love with this Universal – Smart Multi-purpose Prestashop Theme? Because it possesses amazing features that meet your expectations of a professional but easy-to-use template. Created on the powerful Drag n Drop Page builder module, Poeme stunning multipurpose Prestashop theme makes everything simple for you.
You can select a favorite premade homepage demo of the 6 ones for your e-Commerce website, but also install, customize, edit or make changes easily in a blink of an eye in the intuitive powerful Admin panel.
Poeme – Elegant & Professional Versatile Prestashop Theme is well-built with Appealing Look & Feel, Maximum Functionality and Trendy Minimalistic Design for Multi-Purposes.
Poeme is designed to be user-friendly so with zero code requirement, you can build up, control, manage and develop your website creatively as you wish.
With Poeme , how awesome and sharp your website is on high-density Retina displays and high-resolution screens. Let your readers access your site wherever they are and on any devices.
What makes Poeme wonderful for every businesses?
How it works perfectly on Poeme!
Real-time customization with Widget & Module – Newest Page Builder supporting to design in frontend with intuitive and handy tools in a live, drag-and-drop mode. Super Time-saving and Friendly-User! Look this live performance to see how incredibly fast to build your website!
#1. Flexible Multiple Header & Footer Styles
Flexible to work with headers and footers, you completely can change/config contents, layouts and style of header & footer professionally without coding that suits with your style.
#2. Apply Unlimited Skin Colors
Treasure of unlimited colors appears in the color board or color palettes for you to freely create your beautiful appearance. Just pick it and apply for the whole web.
#3. Fly Ajax Cart Pro – Leo Feature
Thanks to the excellent module feature of Leo Feature from Leo Theme, the purchase of clients becomes more interesting, economical, and controllable with Ajax Cart
#4. Smart Blog Module
This Blog PrestaShop Module is a better blog for your eCommerce store. You can build everything for your blog. It' ease to configure the display of blog page, blog category, blog detail. Moreover, you can manage categories, comment blog easily.
#5. 50+ Module Function & Widgets List
Poeme is extremely time-saving & cost-saving builder tools with 50+ premade widgets & elements. The intuitive & visual editing for both content & layout allows managing your site easil
What's more! Sure that you'll be surprised!
#07+ Impressive Product Page Styles
Fantastic Block Arrangement of images, descriptions,etc creates an explosive Product page with eye-catching but fully functional illustration.
INCREDIBLE & UNIQUE FEATURES
Smart Poeme brings all you need for an e-commerce website. The installation is effortless with One-click Installation. Poeme is 100% responsive, fast loading and SEO-friendly. This elegant multipurpose Prestashop Theme for diversified products makes your website look great and fabulous with dozens of strong Prestashop modules integrated.
Let's discover all of the themes with Poeme's Demo.
In case you need any support, our friendly support team and developers are available for you.
Powerful Features for Leo Frido Fashion Template for PrestaShop 1.7
06+ Amazing homepages
Multiple header style
Easy change color template width via the Live theme editor Module.
Can add code css, js in backoffice
This Template compatible with Prestashop 1.7.x
We translate template to 6 languages.
Fully compatible IE10+, Firefox 2+, Firefox 3, Flock 0.7+, Netscape, Safari, Opera 9.5, Chrome.
Page builder Module: drag and drop, short code, landing page creator, custom field for product and category.
Product list builder in home page and category page.
Product detail builder and support 7+ product layouts.

Product image thumbs bottom
Product image thumbs left
Product image thumbs right
Product image no thumbs
Product image no thumbs center
Product image no thumbs fullwidth
Product image gallery

Live edit theme: change background, text color, header and footer style
Mega menu module, blog module, responsive slideshow, video slideshow.
Fly cart, wishlist, add to compare, product tab, ajax search.
Css3, SVG icons used.
Product Slider/Grid home page and category page
Look book module, product gallery module
Social block: Twitter, Facebook, Instagram, Pinterest.
Maximum load speed for google speed, SEO Optimization.
RTL and multiple language support
This Template is designed for desktop, all tablet and mobile devices
Colours Themes support (Yellow, Blue, Pink…) and Multiple header style
Template support for Jquery Effects, css 3. Multiples modules suffix's build-in template for module styling.
Impressive built-in content style.
SEO Optization & High Conversion Rate
Supports multiple layout options, configured within from back-office.
Easy to add custom html module, special, new, home feature via Leo Manage Widget Module
Support for native language file translation.
Change log:
Version 1.7.7.0: Compartible Prestashop 1.7.7.x (December 18th, 2020)
Back Office:
- Bug fix:
    - #22191: Validate currency localized names
    - #22013: Handle parallel updates from CartRules when updating a product in Order
    - #22018: Order zero ratio for order detail tax
    - #21781: Remove gifted quantity from product order quantity
    - #21994: Remove or cancel all products
    - #21721: Handle Shop context override in order editing
    - #21816: Remove useless logic Product customization images in Order Page and handle exotic chars in name
    - #21853: Add missing use in CancelOrderProductHandler
    - #21830: Correctly generate cart error messages
    - #21555: Fixed increment button when adding a product out of stock and with allow order
    - #21526: Improved Error message in New Order Page when adding a minimal product
    - #21557: Fix product pagination when adding a product in an empty order
Front Office:
- Bug fix:
    - - #21981: Make sure favicon, stores_icon and logo are correctly settled for themes
Core:
- Bug fix:
    - #22178: Set numeric_iso_code & precision in currency from CLDR when upgrading
    - #22182: Update pear/archive_tar to 1.4.11
    - #22174: Use displayHeader hook instead of Header 
    - #22164: Fix upgrade script from < 1.7.6.0 to 1.7.7.0
    - #22146: Remove --classmap-authoritative when building release
    - #22130: Fix dependency which is targeting the v1.3.0 instead of the 1.3 branch
    - #21975: Correctly substring fields before update, remove duplicates and add missing sql queries
Installer

      - Improvement:
        - #21957: Update latest native modules
    - Bug fix: 
        - #21953: Fix "column count doesn't match value count" error during upgrade
    - Localization:
          - Improvement:
            - #22063: Last translation updates
    - Tests:
          - Refactoring:
            - #22055: Delete spaces in the end of title name in faker for UI tests
Module and file change in version 1.7.7.0 in folder theme
****templates change:
***Js file
assetsjstheme.js

*** tpl file

modulesps_bestsellersviewstemplateshookps_bestsellers.tpl
modulesps_brandlistviewstemplates_partialsbrand_form.tpl
modulesps_contactinfops_contactinfo.tpl
modulesps_contactinfops_contactinfo-rich.tpl
modulesps_crosssellingviewstemplateshookps_crossselling.tpl
modulesps_emailsubscriptionviewstemplateshookps_emailsubscription.tpl
modulesps_imagesliderviewstemplateshook slider.tpl
modulesps_shoppingcartmodal.tpl
Modulesps_supplierlistviewstemplates_partialssupplier_form.tpl
templates_partialsbreadcrumb.tpl
templatescatalog_partialsminiaturespack-product.tpl
Templatescatalog_partialsminiaturesproduct.tpl
Templatescatalog_partialsfacets.tpl
templatescatalog_partialsproduct-discounts.tpl
templatescatalog_partialsproduct-images-modal.tpl
templatescatalog_partialsproduct-cover-thumbnails.tpl
templatescatalog_partialsproduct-prices.tpl
templatescatalog_partialsproduct-variants.tpl
templatescatalog_partialsquickview.tpl
Templatescatalog_partialssort-orders.tpl
templatescatalog_partialsvariant-links.tpl
templatescatalogproduct.tpl
templatescheckout_partialscart-detailed-product-line.tpl
templatescheckout_partialscart-detailed-totals.tpl
templatescheckout_partialscart-summary-subtotals.tpl
templatescheckout_partialscart-voucher.tpl
templatescheckout_partialsorder-confirmation-table.tpl
templatescheckoutcheckout.tpl
templatescmsstores.tpl
templatescustomer_partialsaddress-form.tpl
templatescustomer_partialsblock-address.tpl
templatescustomer_partialsorder-detail-no-return.tpl
templatescustomer_partialsorder-detail-return.tpl
templatescustomerorder-return.tpl
templatescontact.tpl
templatessubproduct_infodefault.tpl
templatessubproduct_infoaccordions.tpl

*** Add new tpl file

templatescatalog_partialsproductlist.tpl
modulesps_emailsubscriptionviewstemplateshookps_emailsubscription-column.tpl
==========================
Version 1.7.6.5: Compatible Prestashop 1.7.6.x (May 7th, 2020)
**Templates change:
 - templatescheckout_partialsstepsaddresses.tpl
– Back Office:
- Bug fix:
    - Fix sidebar not displayed in BO Add employee page
    - Fix wrong number of "Last emails" in BO - Customer View page
    - Wrong redirection when using the quick search for a category
    - Fix error when trying to translate Serbian using the BO interface
– Front Office:
- Bug fix:
    - Convert cart rule value when order currency is different
    - Change product redirection rules to redirect to valid attribute url
    - Duplicate address when submitting a form with errors
– Core:
- Improvement:
    - Update version to 1.7.6.5
  - Bug fix:
    - Improper access control on product page with combinations, attachments and specific prices
    - Improper access control on product attributes page
    - Improper access control on customers search
    - Improper Access Control
    - Reflected XSS related in import page
    - Reflected XSS with back parameter
    - Reflected XSS on Exception page
    - Reflected XSS on AdminCarts page
    - Reflected XSS on Search page
    - Reflected XSS with dashboard calendar
    - Open redirection when using back parameter
    - Reflected XSS on AdminFeatures page
    - Reflected XSS on AdminAttributesGroups page
    - Reflected XSS in security compromised page
– Installer:
- Bug fix:
    - Installation under CLI doesn't take BASE_URI and Apache rewrite in consideration
    - Use scandir instead of readdir to get sorted entities
– Tests:
- Bug fix:
    - Change test fixtures that need to be in the future
======================================================
Version 1.7.6.3 (February 11st, 2020)
Module and file change in version 1.7.6.3 in folder theme
****JS change:
- assetsjstheme.js 
– Change:
Back Office

    Improvement:
    #17036: Protect modules vendor folder on install/upgrade/enable


    Bug fix:
    #16906: Handle profile name above 32 chars exception
    #17087: Define alert message when error are found in Category Form 
    #17065: Fix encoding on product name in viewed product
    #17071: Fix recursive check of updated files - backport of #16765
    #16742: Can't export data more than filters limits 
    #16696: Fix email theme permission 
    #16746: Attributes bo_css & bo_theme can be empty 
    #16729: Cost price & unit price are erased when saving with a supplier
    #16888: Fix customer comment template
    #16294: Fix email not translated when installing a new language 
    #16648: Fix customer statuses not being able to toggle when optin field is required 

Front Office:

    Bug fix:
    #17248: Added RTL Style for Classic Theme
    #16852: Fix a bug where changing quantity on product quickview adds products tags on ever products
    #17030: Ignore rtl assets and remove _rtl.css files

Core:

    Bug fix:
    #17050: Quick access error when having a wrong url
    #16893: Fix yml config parse typo
    #16522: Prevent getter from changing class state 
    Refactoring:
    #17130: Make $localizedSymbols variable to be compatible with develop 

Web Services:

    Bug fix:
    #17069: Fix Currency i18n fields issue in webservice

======================================================
Version 1.7.6.2 (December 9th, 2019)
– Change:
Back Office

    Bug fix:
    #16365: Viewed products - the date is showing product id - not a date
    #16265: Fix category checkbox redirect
    #16153: Add missing field type DNI in brand address form
    #16158: Fix filter not being taken into account in grid export
    #16172: Remove constraint on siret in CustomerType
    #16047: Handle multistore customers sharing in customers listing at group level
    #16036: Add redirect routes on security annotation of Category pages
    #15643: Allow CLDR to display deleted/inactive currencies
    #15859: Add clickable row option for grid actions
    #15880: Fix wrong data mapping in export
    #15855: Allow anonymous mode for AdminController
    #15856: Must use min-with instead max-widght for the Profile button
    #15685: Unable to create new supplier when VAT identification number is mandatory
    #15665: Wrong selector expression, unable to move parent category
    #15660: Fix tracking url in Theme and Logo page
    #15658: Use empty legacy action parameter
    #15382: Remove useless and buggy identifier computation

Front Office:

    Bug fix:
    #16423: Use default attribute when no one are passed in front page
    #16274: Fix contact us email display
    #15964: Use product url (including combination) rather than canonical one in the miniatures
    #15963: Add rel="nofollow" to prestashop website link
    #15930: Fix on product-flags class for product cards

Core:

    Improvement:
    #16203: Update version to 1.7.6.2
    Bug fix:
    #16500: Incorrect email subject and template variable {shop_name}
    #16335: Update id_order_state at the right place
    #16258: Remove unnecessary require_once config.inc
    #16026: Remove final keyword from Lang entity
    #15917: Define use_debug_toolbar even if it's not set in parameters.php
    #15691: Cart rules mustn't be auto added automatically in some cases
    #15621: Revert "Fix lang table multi-store data issue" 
    #15731: Webservices shouldn't display warning when running with fpm or Nginx
    #15515: SqlTranslator must throw a NotFoundResourceException 

Tests:

    Bug fix:
    #15847: Npm is not anymore in the nodejs package 
    #15895: Add management of an env var to disable debug toolbar in travis tests
    #15590: Remove selenium tests 

Below is the list of changed files in Prestashop version 1.7.6:
****templates change:

- templatescatalog_partialsminiaturesproduct.tpl
****JS change:

- assetsjstheme.js
And more
Ap Page Builder version 2.2.7 has been release
Ap Booking, Ap Blog, Ap Mega Menu, Ap Feature module, Ap gdpr, Ap Parts Filter, Ap Product Search, Ap Quicklogin, Ap Slideshow updated and compatibility 1.7.6.2
======================================================
Version 1.7.5.2
Version 1773
File change in version 1.7.7.3 compare 1.7.7.2 in folder theme

*** tpl file change in theme

modulesps_emailsubscriptionviewstemplateshookps_emailsubscription.tpl

modulesps_shoppingcartmodal.tpl

templatescheckout_partialscart-detailed-product-line.tpl

templatescatalog_partialsminiaturesproduct.tpl

Change: 
(+) Add new

Version 1782
Module and file change in version 1.7.7.8 in folder theme

****templates change:

*** Js file change in theme

assetstheme.js
assetsjserror.js

*** Tpl folder module in theme

modulesblockreassuranceviewstemplateshookblockreassurance.tpl
modulescontactformviewstemplateswidgetcontactform.tpl
modulesps_advertisingps_advertising.tpl
modulesps_bannerps_banner.tpl
ps_brandlistviewstemplateshookps_brandlist.tpl
ps_contactinfonav.tpl
modulesps_contactinfops_contactinfo.tpl
modulesps_contactinfops_contactinfo-rich.tpl
modulesps_categorytreeviewstemplateshookps_categorytree.tpl
modulesps_currencyselectorps_currencyselector.tpl
modulesps_customersigninps_customersignin.tpl
modulesps_emailsubscriptionviewstemplateshookps_emailsubscription.tpl
modulesps_emailsubscriptionviewstemplateshookps_emailsubscription-column.tpl
modulesps_linklistviewstemplateshooklinkblock-column.tpl
modulesps_linklistviewstemplateshooklinkblock.tpl
modulesps_sharebuttonsviewstemplateshookps_sharebuttons.tpl
modulesps_shoppingcartmodal.tpl
modulesps_shoppingcartps_shoppingcart.tpl

*** Tpl folder Template in theme

templates_partialsform-fields.tpl
templates_partialshead.tpl
templatescatalog_partialsminiaturesbrand.tpl
templatescatalog_partialsminiaturescategory.tpl
templatescatalog_partialsminiaturespack-product.tpl
templatescatalog_partialsminiaturesproduct.tpl
templatescatalog_partialscategory-header.tpl
templatescatalog_partialsfacets.tpl
templatescatalog_partialsproduct-additional-info.tpl
templatescatalog_partialsproduct-add-to-cart.tpl
templatescatalog_partialsproduct-cover-thumbnails.tpl
templatescatalog_partialsproduct-cover-thumbnails.tpl
templatescatalog_partialsproduct-customization.tpl
templatescatalog_partialsproduct-details.tpl
templatescatalog_partialsproduct-discounts.tpl
templatescatalog_partialsproduct-flags.tpl
templatescatalog_partialsproduct-images-modal.tpl
classictemplatescatalog_partialsproductlist.tpl
templatescatalog_partialsproduct-prices.tpl
templatescatalog_partialsproducts-top.tpl
templatescatalog_partialsproduct-variants.tpl
templatescatalog_partialsquickview.tpl
templatescatalog_partialssort-orders.tpl
templatescataloglistingproduct-list.tpl
templatescataloglistingcategory.tpl
templatescataloglistingproduct-list.tpl
templatescataloglistingsearch.tpl
templatescatalogproduct.tpl
templates/sub/product_info/tab.tpl
templatescheckout_partialsstepsaddresses.tpl
templatescheckout_partialsstepscheckout-step.tpl
templatescheckout_partialsstepspayment.tpl
templatescheckout_partialsstepsshipping.tpl
templatescheckout_partialsstepsunreachable.tpl
templatescheckout_partialsaddress-form.tpl
templatescheckout_partialsaddress-selector-block.tpl
templatescheckout_partialscart-detailed-actions.tpl
templatescheckout_partialscart-detailed-product-line.tpl
templatescheckout_partialscart-detailed-totals.tpl
templatescheckout_partialscart-summary.tpl
templatescheckout_partialscart-summary-product-line.tpl
templatescheckout_partialscart-summary-subtotals.tpl
templatescheckout_partialscart-summary-totals.tpl
templatescheckout_partialscart-voucher.tpl
templatescheckout_partialscustomer-form.tpl
templatescheckout_partialsorder-confirmation-table.tpl
templatescheckout_partialsorder-final-summary.tpl
templatescheckoutcheckout.tpl
templatescheckout_partialsheader.tpl
templatescheckout_partialsfooter.tpl
templatescheckoutorder-confirmation.tpl
templatescms_partialssitemap-nested-list.tpl
templatescmsstores.tpl
templatescustomer_partialscustomer-form.tpl
templatescustomer_partialslogin-form.tpl
templatescustomer_partialsorder-detail-no-return.tpl
templatescustomer_partialsorder-detail-return.tpl
templatescustomerguest-login.tpl
templatescustomerguest-tracking.tpl
templatescustomermy-account.tpl
templatescustomerorder-return.tpl
templatescustomerpassword-email.tpl
templateserrors404.tpl
templateserrorsmaintenance.tpl
templateserrorsnot-found.tpl
templateserrorsrestricted-country.tpl
templateslayoutslayout-both-columns.tpl
templateslayoutslayout-content-only.tpl
templateslayoutslayout-full-width.tpl
templateslayoutslayout-left-column.tpl
templateslayoutslayout-right-column.tpl

***  New folder
templates_partialsmicrodata

*** New file
templates_partialspagination-seo.tpl
templatescatalog_partialssubcategories.tpl
templatescheckout_partialscart-summary-products.tpl
templatescheckout_partialscart-summary-top.tpl
modulesps_imagesliderviewstemplateshookslider.tpl

---
Product Author:leo-theme