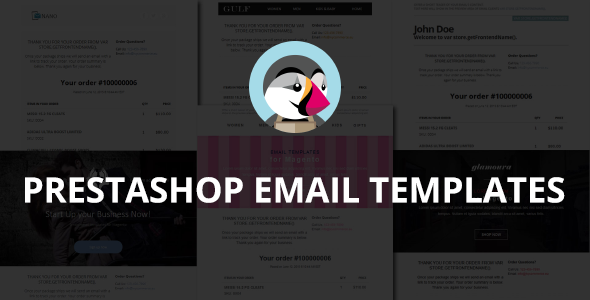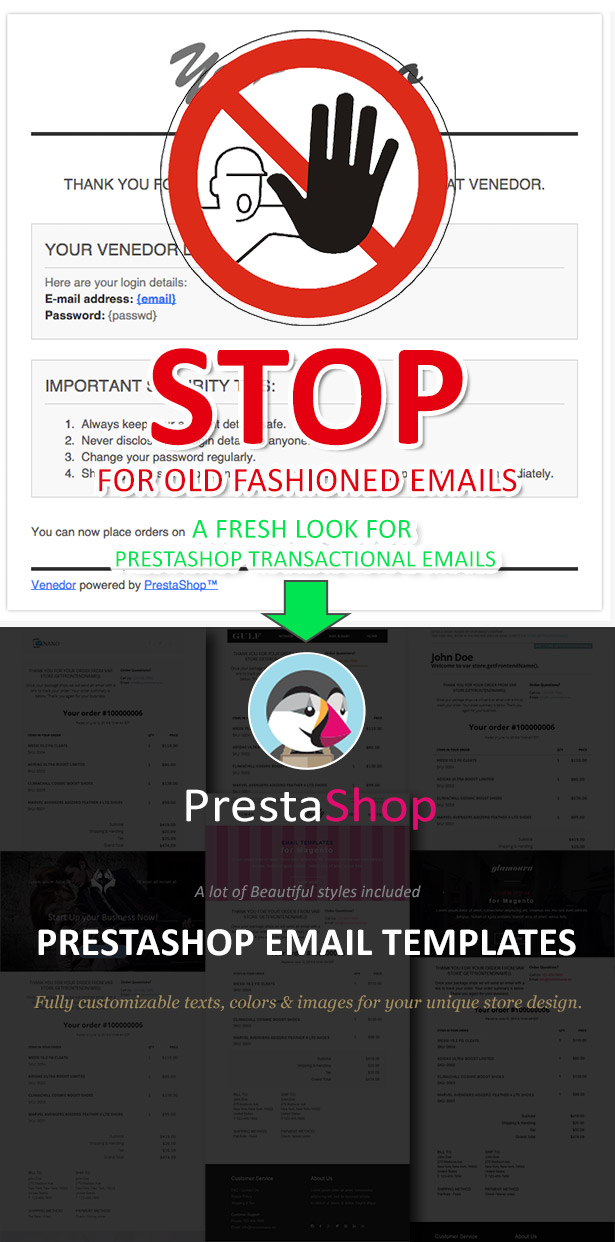 Your online business is not just a pretty website
20 Different Email Styles Included — Available Styles ↗
New Fresh Designs & Bug-fix Updates for a Lifetime
Best Selling PrestaShop Email Templates on CodeCanyon
Fully customizable texts, colors & images for your unique store design
The transactional emails sent through your PrestaShop store are critically important emails, which should convey important information to your customer. Customizing those emails is a simple and effective way to differentiate yourself from the competition. It allows you to convey the information you are trying to communicate in an effective way and generate a higher level of customer engagement.

Make them look beautiful and just like the rest of your store using PrestaShop Email Templates.
First solution on the web
Responsive design for smartphones, tablets etc.
Customize what you want (Images, Texts, Colors, Fonts etc.) for your unique store design.
What is included?
All 34 Transactional Emails for Your Customers (Orders, Invoices, Registration etc.) & 20 Beautiful Styles
User's Guide (How To Setup & Customize)
Custom Designs & Development
Our expert will do the job. Let's discuss your needs.
We charge $50/hour — Contact Us ↗.
Changelog

==> version 3.3 - 21/JAN/2023
- Update. New release for 2023.

==> version 3.2 - 03/NOV/2022
- Minor fixes.

==> version 3.0 - 02/JAN/2022
- Big Update! Completely new release for 2022.

==> version 2.92 - 27/NOV/2021
- Minor fixes.

==> version 2.91 - 02/SEP/2020
- Autumn update.

==> version 2.9 - 03/JUNE/2020
- Update.

==> version 2.8 - 07/JAN/2020
- Update. 2020 Ready.

==> version 2.7 - 16/OCT/2019
- Update. Minor fixes.

==> version 2.6 - 19/JULY/2019
- minor fixes.

==> version 2.5 - 04/JAN/2019
- new release for 2019.
- compatibility fix for outlook.

==> version 2.4 - 20/SEP/2018
- Updated version.

==> version 2.3 - 31/MAR/2018
- Completely new release for 2018

==> version 2.2 - 03/JAN/2018
- Update.

==> version 2.1 - 01/JUNE/2017
- a bug in JURA template. Updated.

==> version 2 - 20/JAN/2017
- Big update for 2017
- 20 New email styles added

==> version 1.5 - 11/NOV/2016
- Support for latest version of PrestaShop (1.7.x.x and above)

==> version 1.4 - 15/OCT/2016
- support for latest version of PrestaShop

==> version 1.3 - 16/AUG/2016
- small fixes

==> version 1.2 - 02/JAN/2016
- fix for attached html

==> version 1.1 - 23/NOV/2015
- new layouts added

==> version 1.0 - 09/AUG/2015
- Initial Release 1.0