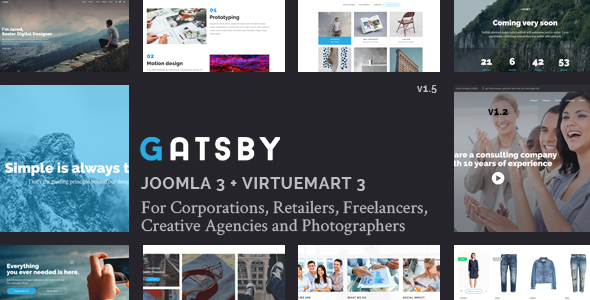 UPDATED: Version 1.5 is Available (VM3.8.9+Joomla 3.10.6) Recommended PHP Version 7.x
Gatsby is a clean, flat and modern Joomla3 and Virtuemart3 template suitable for any type of website. Web agencies, single product, personal website, portfolio and a lot more. Gatsby is designed according to the latest trends and best practices.
Try it now and you won't regret in your choice.
All Features:
Multipurpose design;
Responsive layout;
Cross-browser compatibility;
Based on Bootstrap & LESS;
Helix 3 Framework for Joomla!;
Joomla! 3.6.x compatible;
VirtueMart version 3.x;
Easy theme installation;
SP Page Builder (Pro) 2.x;
SEO ready;
8 different main page layouts;
Boxed and Wide Layouts
Revolution slider;
Unlimited colors;
Mega menu;
Multi-language support;
Real multi currency support;
Wishlist – exclusevily developed;
Product comparison – exclusevily developed;
Switch on/off floating header option;
Banner manager;
Possibility to adjust the layout for mobile devices via admin panel;
Touch enabled option for product sliders;
Ajax drop-down shopping cart;
Ajax price filter (just styles);
List and grid view;
Countdown for products;
Popup window with a promotion and newsletter subscription form;
Custom tabs on product page;
Prev/Next item navigation;
Customizable product images;
"Sale" , "New" , "Hot" and "Limited Offer" labels;
Product image zoom and Fancybox lightbox available;
Share icons on a product page;
"Recently Viewed Products" block;
Products review & rating;
Anti-spam captcha;
Newsletter subscibe;
"Join us on Facebook" plugin;
Twitter plugin;
Blog page;
Attractive hover effects and tooltips;
Google web fonts;
Iconic fonts;
Extended documentation;
Support & free updates.
Credits:
IMPORTANT: clipart is not included in the stock file.
Updates:
Version 1.5 – February24th, 2022

UPDATED:
- Update Joomla 3.10.6
- Update VM 3.8.9
- Update plg_system_jqueryeasy
- Update pkg_jchoptimize-7.1.3-core
- Update pkg_jce_2920
- Update plg_system_helix3_3.0.2
- Update plg_ajax_helix3_3.0.2
- Update com_sppagebuilder_pro_v3.8.3
- Fixed compare button

Version 1.4 – June 24th, 2019

UPDATED:
- Update Joomla 3.9.8
- Update pkg_slogin_v2.5.3_j2.5_j3
- Update plg_jch_optimize_5.4.2
- Update plg_ajax_helix3_v2.5.6
- Update plg_system_helix3_v2.5.6
- Update com_sppagebuilder_pro_v3.5.0
- Fixed compare button

Version 1.3 – 30 December 2017

1. Update VM 3.2.12 
2. update Joomla 3.8.3
3. Update pagebuilder3.0.4 
4. Update acymailing 5.8.1
5. Fixed error in mod_acymailing.php (acymailing_loadMootools()) 
6. Fixed plugin and cart module for multi-languages
7. Update unite_slider5.0.8.zip 


1. Update acymailing 5.8.1
2. Update Revslider 4.8.2 
3. Update Joomla 3.8.1
4. Update VM 3.2.4 
5. Update Helix framework v2.3
6. Update builder v2.5.4 
7. Fixed acymailing module
8. Fixed multilanguage troubles with Cart module 


1.Update Joomla 3.7.2
2.Update Virtuemart 3.2.3 
3.Fixed module mod_tfbanner 
4.Updated OPC plugin
5.Updated com_sppagebuilder_pro_v2.4.7 
6.Updated framework Helix3_template_j3_v2.0 
7.Added new plugin plg_jch_optimize_5.1.2


NEW:
- template release 

If you like our product, don't forget to rate it





Thank you
Version 1.0