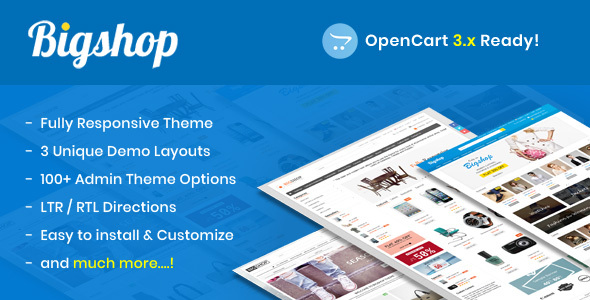 Bigshop is a well designed, responsive, and eye catching template. It will be perfect solution for your current or future webshop. Premium OpenCart Theme Bigshop is the best choice for your ecommerce online website store.
Compatible with OpenCart: 2.0.3.1 / 2.1.0.1 / 2.1.0.2 / 2.2.0.0 / 2.3.0.2 / 3.x
Features of Responsive OpenCart Theme
Layout
Compatible With Bootstrap
100% Fully Responsive
Full Width or Boxed
Header
Custom Links
Custom Blocks
Telephone Number
Email ID
Wishlist Link
Checkout Link
Language/Currency Title
Auto Complete Field: Easily Find Product with Search Bar
Main Menu
Home Page Link in Text/Icon
4 Categories Display Variants (Default OpenCart / Vertical / Horizontal / Horizontal 2 Style)
3 Level Category in Main Menu
3 Brands Display Variants (Logo / Name / Logo + Name)
Custom Links
Custom Blocks
Information Pages Links
Contact Us Page Link
Slideshow
Nivo Slider
Owl Carousel Slider
4 Widgets
Facebook Box
Twitter Block
Custom Block
Video Block
Additional Modules
Bigshop Banner – Create an unlimited number of Banner Walls
Bigshop Product Tab
Categories accordion (A great module when you have a lot of categories.)
Footer
Contact Details OR About Details
Follow Us Block (Social Media icons)
Powered By Block
Payment Images
Bottom Custom Block
Scroll To Top button
Category Page
Refined Categories with Images or default OpenCart style
Percentage Discount Badge in Product box.
Product Page
Cloud Zoom + Responsive Product Gallery OR default OpenCart Popup Box.
Increment/Decrements a Quantity button.
addthis Plugin in 3 style for share product.
Other
Unlimited Colors (ColorPicker for backgrounds, links, texts, prices, headings, buttons, main menu, and much more).
45+ included background patterns or upload your own.
Google Fonts: 600+ Google Fonts with option to choose subsets.
Cross browser compatible: it works fine under modern, major browser(IE9+, Chrome, Firefox, Safari and Opera).
Built-In RTL Language Support
Extensive Documentation
Feedback from customers
Thank you for this fantastic template! Everything is just perfect….Essak
Just for the record! GREAT customer service! Great Theme as well easy to set up, loads quick, and is perfect! Thanks!…gil719
I just want to say thank you so much for your quick and excellent support. You made changes to my theme so it can do exactly what I want. You really are a first class theme provider. …… roibot
Thank you for this fantastic template! Everything is just perfect. …offered007
This is really a great theme and the support is superb. I can really recommend buying this theme. You will not regret this! ……macnoel
Thanks a lot for been supportive and helpful * 5 stars……wkj713
Theme is so nice. It's really amazing how you help and support your customers! That's a five star experience! Thank you very much for the provided guidelines and support. I am so happy an excited for my new store …… Gangof Designers
Harnish, Thank you for all of your assistance with this template. It is just what I was looking for and is outstanding. Your support is outstanding ……. Thank you again. Marc b.
Thank you! Nice Template, easy to use and perfect Support!. Always willing to help. Not regretting purchasing your template. Good Luck and Thank you again. …… comboZone
Very nice theme, clean and well made. Support is fast and friendly. So a 5 in rating from me! …… realitylab
Thanks Harnish, great support as always! Keep the good work.DreamsTale
5 Star Template, 5 Star Support!

I rearranged the header in my Bigshop template and messed up the responsive design. Over 3 days Harnish worked on my shop and got it fixed. Now its as smooth as butter, and is working great. I will definitely buy another template from Harnish again! …… tdubsCA
Note : The product images are for demonstration purposes only and are not included in the package.
If you like our product, don't forget to rate it





Thank you
Support and Help
If you have any questions, Private messages can be sent through the contact form in my Support Page. Otherwise you may use the comments area for this theme.