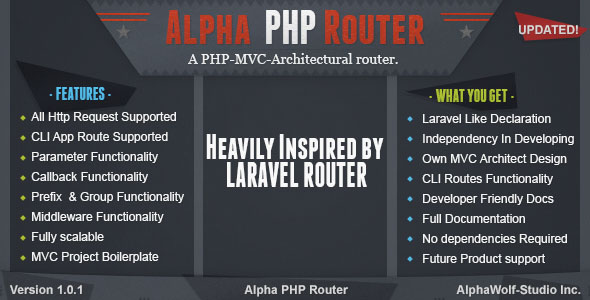 Alpha router is a PHP-MVC-Architectural router which was built to improve the workflow of the web developers. The main attraction of this router is that the routes declaring of the 'Alpha-Router' is the same as the 'Laravel'. A user can easily create a PHP MVC project with this router very easily.
A own PHP MVC framework gives more scalability and more efficient workflow for a developer. And we know that. That's why we came along with this new Product. The implementation of the routes declaring system is very easy in laravel, that's why we choose laravel as our route declaring design pattern. But we didn't included any 'Illuminate' dependency as others did. We don't need the ILLUMINATE dependency like other laravel standalone . This router is very light and effective for all of your php mvc projects.
Features
GET, POST, PUT, PATCH, DELETE, OPTIONS request routing
Command Line Interface Application Routing
Parameter functionality
Multiple Parameter functionality
Callback functionality
Single Prefix & Middleware functionality
Route get name with parameter functionality
Group prefix functionality
Middleware functionality
Model & Controller ready(Template engine not included)
Laravel like routing table declaration
No Dependencies required. (We don't need the ILLUMINATE dependencies like other Laravel standalone)
Note that this product doesn't work like the actual Laravel router. The working process is different here. But the functionalities and the routes declarations of 'Laravel' and 'Alpha router' shares the same pattern. So if a web developers knows how to declare routes in the 'Laravel' then there would be no problem to use this product. Thus, this would improve the workflow of the web developers.